बच्चेदानी में सूजन (Bulky Uterus in Hindi) का कारण, लक्षण और उपचार
Published on April 25, 2022
Updated on June 07, 2022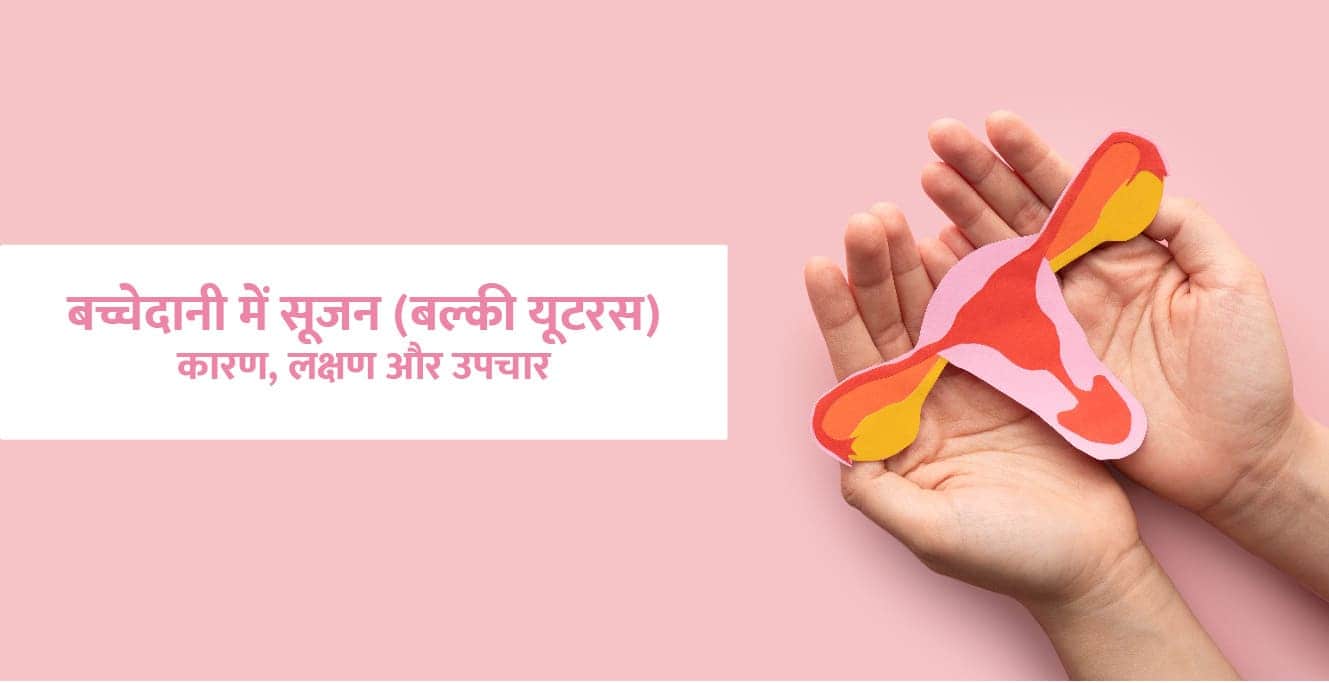 बच्चेदानी में सूजन (बल्की यूटरस) क्या है (What is Bulky Uterus in Hindi)
बच्चेदानी में सूजन की समस्या को बल्की यूटरस या गर्भाशय का आकार बढ़ना कहते हैं। बच्चेदानी को यूटरस और गर्भाशय के नाम से भी जाना जाता है। यह महिलाओं के प्रजनन अंगों में से एक है जिसका मुख्य काम प्रेगनेंसी के दौरान भ्रूण को पोषित करना और गर्भस्थ शिशु का पूरा ध्यान रखना है।
बल्की यूटरस की स्थिति में एक महिला के गर्भाशय का आकार सामान्य की तुलना में अधिक बड़ा हो जाता है जिसके कारण महिला को अनेक परेशानियों का सामना करना पड़ता है। समय पर बल्की यूटरस का निदान और उपचार कर इससे उत्पन्न होने वाली जटिलताओं को रोका जा सकता है।
बच्चेदानी में सूजन (बल्की यूटरस) का इलाज कई तरह से किया जा सकता है। आमतौर पर बल्की यूटरस का उपचार इसके कारणों पर निर्भर करता है। इस समस्या का इलाज करने के लिए डॉक्टर दवाओं और सर्जरी का उपयोग करते हैं।
बच्चेदानी में सूजन (बल्की यूटरस) के लक्षण (Symptoms of Bulky Uterus in Hindi) 
बच्चेदानी (गर्भाशय) में सूजन होने यानी उसका आकार बढ़ने के कई लक्षण हो सकते हैं। इसमें मुख्य रूप से निम्न शामिल हो सकते हैं:-
अनियमित पीरियड्स

पेल्विक क्षेत्र में दर्द और ऐंठन

पैरों में सूजन और ऐंठन

पीठ में दर्द की शिकायत

पेट के निचले हिस्से के आसपास दर्द

मुहांसे आना और अत्यधिक बाल बढ़ना

कब्ज की शिकयत

एनीमिया होना

अचानक से वजन बढ़ना 

शारीरिक संबंध बनाते समय दर्द होना

कमजोरी और थकान

पाचन तंत्र खराब होना तथा अपच की समस्या होना

गर्भाशय और आसपास के अंगों पर दबाव पड़ना

मेनोपॉज के बाद भी योनि से ब्लीडिंग होना

बार-बार पेशाब करने की जरूरत महसूस होना
ऊपर दिए गए लक्षण बच्चेदानी में सूजन यानी बल्की यूटरस की ओर इशारा करते हैं। अगर आप इनमें से किसी भी लक्षण को खुद में अनुभव करती हैं तो आपको एक विशेषज्ञ डॉक्टर से परामर्श करने का सुझाव दिया जाता है।
बच्चेदानी में सूजन (बल्की यूटरस) के कारण (Reasons Behind Bulky Uterus)
बच्चेदानी में सूजन (बल्की यूटरस) कई कारणों से होता है। महिलाओं में अधिकतर समस्याएं अस्वस्थ जीवनशैली और गलत खान-खान एवं नशीली पदार्थों का सेवन करने से होती है। एक महिला अपनी जीवनशैली और खान-पान में सकारात्मक बदलाव लाकर बच्चेदानी में सूजन (बल्की यूटरस) के खतरे को दूर कर सकती है।
बच्चेदानी में सूजन (बल्की यूटरस) के निम्न कारण हो सकते हैं:-
जब एक महिला की ओवरी में सिस्ट बनते हैं तो बच्चेदानी में सूजन आने लगती है जिससे उसका आकार बढ़ जाता है।
फाइब्रॉइड्स भी बच्चेदानी में सूजन (बल्की यूटरस) के मुख्य कारणों में से एक है। फाइब्रॉइड्स की स्थिति में गर्भाशय में छोटे-छोटे टिश्यू उत्पन्न हो जाते हैं।
जब एक महिला के शरीर में हार्मोनल असंतुलन होता है तो पीसीओएस या पीसीओडी की समस्या पैदा होती है। इन दोनों के कारण बच्चेदानी में सूजन (बल्की यूटरस) होने का खतरा बढ़ जता है।
जब एक खास उम्र (40-60) के बाद एक महिला के पीरियड्स आने बंद हो जाते हैं तो उसे मेडिकल की भाषा में मेनोपॉज कहते हैं।
मेनोपॉज से गुजर रही महिलाओं के शरीर में हार्मोनल असंतुलन होता है जिसके कारण बच्चेदानी में सूजन (बल्की यूटरस) का खतरा बढ़ जाता है।
यह एक प्रकार का विकार है जिसमें गर्भाशय का हिस्सा, जिसे हम एंडोमेट्रियम कहते हैं, गर्भाशय यानी बच्चेदानी में सूजन का कारण बन सकता है।
बच्चेदानी के अंदर होने वाले कैंसर को एंडोमेट्रियल कैंसर कहते हैं। इस बीमारी से पीड़ित महिला के बच्चेदानी के अंदर कुछ कोशिकाओं में वृद्धि होने लगती है जिसके कारण बच्चेदानी का आकार बढ़ने लगता है।
बच्चेदानी में सूजन (बल्की यूटरस) का उपचार (Bulky Uterus Treatment in hindi)
बच्चेदानी में सूजन (बल्की यूटरस) का उपचार कई तरह से किया जाता है। आमतौर पर बच्चेदानी में सूजन का उपचार इसके कारण और गंभीरता पर निर्भर करता है। उपचार से पहले डॉक्टर बल्की यूटरस के कारण की पुष्टि करते हैं। फिर उसके आधार पर इलाज के माध्यम का चयन करते हैं।
बच्चेदानी में सूजन का कारण फाइब्रॉइड्स होने पर डॉक्टर गर्भनिरोधक गोलियां जैसे कि एस्ट्रोजन और प्रोजेस्टेरोन या आईयूडी का सुझाव देते हैं। ये गोलियां फाइब्रॉइड्स के विकास को रोकने और पीरियड्स के दौरान ब्लीडिंग को कम करती हैं।
गंभीर बीमारी के कारण बच्चेदानी में सूजन होने या दवाओं के बेअसर होने पर डॉक्टर लेप्रोस्कोपिक सर्जरी की मदद लेते हैं। 
स्वस्थ बच्चेदानी के लिए टिप्स (Tips for Healthy Uterus in Hindi)
बच्चेदानी / यूटरस / गर्भाशय को स्वस्थ रखने के लिए आप कुछ टिप्स का पालन कर सकती हैं जिसमें निम्न शामिल हैं:-
संतुलित आहार लें

चाय या कॉफी सेवन कम करें

कीगल एक्सरसाइज करें
Written by: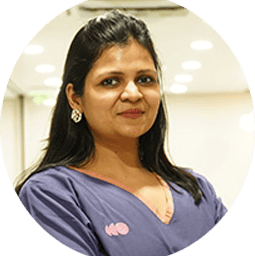 Dr. Shilpa Singhal
Dr. Shilpa is an
experienced and skilled
IVF specialist providing a wide range of infertility treatment solutions to people across India. With over 11 years of experience under her belt, she has contributed immensely to the medical fraternity in the field of fertility. She has performed over 300 infertility treatments with a high success rate that has transformed the lives of her patients.
Book an Appointment
View Details
To Know More
Speak to our experts and take your first steps towards parenthood. To book an appointment or to make an enquiry, please leave your details and we will get back to you.