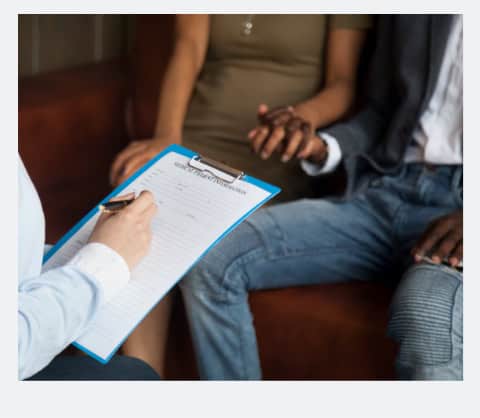 Infertility Assessment Panel
Male and Female Infertility Panel at
Birla Fertility & IVF
Infertility is a complex condition that is estimated to impact nearly 15% of couples actively trying to conceive around the world. Fortunately advances in the field of Assisted Reproductive Technology have made it possible to overcome almost all types of infertility issues in both men and women.
At Birla Fertility & IVF we offer a comprehensive male and female infertility assessment panel to help you understand your fertility and ability to conceive. Our thorough fertility evaluation and patient focused treatment approach allows for better diagnostic decisions, personalised protocols, and an enhanced treatment experience.
Why Consult an Infertility Panel?
The infertility panel is recommended for couples experiencing pregnancy delay for over 1 year. However, if the age of the female partner is over 35 years, the infertility assessment panel is recommended after 6
months of trying. Couples with a history of conditions known to impact fertility like endometriosis, ovulation disorders or have undergone treatments for cancer must also take this assessment to understand their fertility. As problems with fertility can be present in both men and women, it is important that both partners undergo a fertility assessment if they are having trouble in becoming pregnant.
Infertility Panel Assessment
Assessment of female infertility is more detailed as it is designed to test for a range of factors which can impact the ability to become pregnant or carry the pregnancy to term.
Male factor infertility is estimated to be responsible for nearly half of all infertility issues. It is assessed based on a complete physical check-up and the detailed medical history of the patient.
Frequently Asked Questions
Medical experts recommend trying to conceive for atleast one year before a fertility consultation for women younger than 35 years of age. For women over the age of 35 years, fertility consultation is recommended if pregnancy does not occur after 6 months of trying. In case of any health problems that indicate infertility like irregular periods or endometriosis, it is advisable to seek help before trying to become pregnant.
Smoking and consumption of other forms of tobacco is known to cause fertility problems in both men and women. Smoking can result in lower sperm count and poor sperm motility.
Common causes of male fertility include genetic defects, health problems (such as diabetes or STIs), varicoceles (enlarged veins in the testicles), sexual disorders (erectile dysfunction or premature ejaculation), overexposure to certain environmental factors such as radiation or chemicals, cigarette smoking, alcohol, certain medications, frequent exposure to heat as well as cancer or cancer treatment.
Female infertility can be the result of advanced maternal age (over the age of 35), ovulation disorders that affect the normal release of eggs from the ovaries, uterine or cervical abnormalities, fallopian tube blockage or damage, endometriosis, premature menopause, pelvic adhesion as well as certain types of cancer and cancer treatment.
Patient Testimonials

We have been trying to conceive for the past two years but did not get a positive result. We choose Birla Fertility for our IVF treatment. The whole team of doctors, nurses, and other staff members were very supportive and helpful. We are halfway through the treatment process and very excited to share the good news with our family.

Nisha and Navneet

One of my friends suggested Birla Fertility & IVF. When we visited the hospital, firstly, the doctor asked us about our medical history, and on that basis, the hospital set up an infertility assessment panel. The panel then identifies the best suitable treatment for us. I must say the Birla Fertility's team was extremely helpful and patient. They took all the required testing without making us uncomfortable. They counsel us regarding all our needs. Must visit the hospital for your IVF treatment.

Anju and Kamal
To Know More
Speak to our experts and take your first steps towards parenthood. To book an appointment or to make an enquiry, please leave your details and we will get back to you.
Learn more about fertility