स्तन कैंसर से महिला की प्रजनन क्षमता को कैसे बचाया जा सकता हैं?
Published on October 26, 2021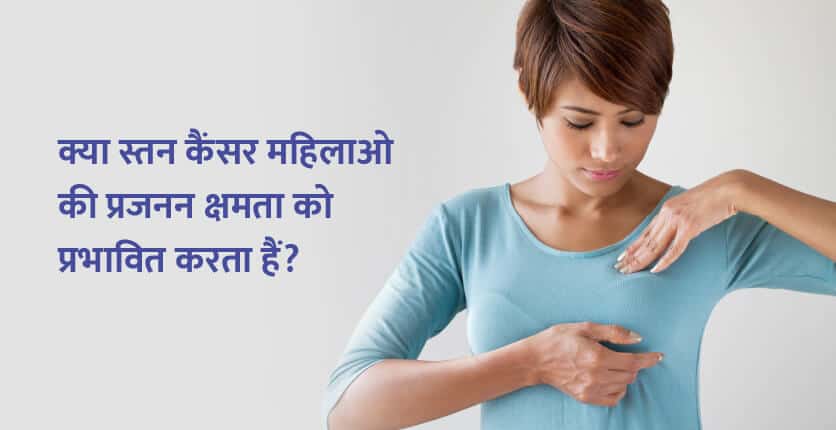 दशकों से, दुनिया भर में महिलाओं में स्तन कैंसर (breast cancer) एक सबसे आम और घातक बीमारी रही है। आज देश में कई कम उम्र की महिलाओं में स्तन कैंसर बढ़ने का एक कारण यह भी हैं की आज अच्छे उपचार और नयी तकनीक से कैंसर के कारण पता लगाने की दर में वृद्धि हुई है। हालांकि स्तन कैंसर के विकसित होने का कोई विशेष कारण नहीं है, अस्वस्थ जीवनशैली, अत्यधिक शराब का सेवन, स्तन कैंसर का पारिवारिक इतिहास आदि कुछ ऐसे कारण हैं जो इस बीमारी के विकसित होने की संभावना को बढ़ा सकते हैं।
स्तन कैंसर का इलाज कराने का मतलब यह हो सकता है कि आपको अपनी योजना से पहले अपनी प्रजनन क्षमता के बारे में सोचना होगा। जबकि आपकी मुख्य चिंता शायद आपके स्तन कैंसर का इलाज कराना है, यदि आपके खुद के बच्चे होना आपके लिए महत्वपूर्ण है तो आपकी प्रजनन क्षमता को संरक्षित करने की प्रक्रियाएं – जैसे आईवीएफ या एग फ्रीजिंग की जा सकती है।
यदि आप स्तन कैंसर से पीड़ित हैं और कैंसर का इलाज कराने की योजना बना रहें हैं तो इलाज शुरू होने से पहले इस बारे में अपनी फर्टिलिटी एक्सपर्ट्स से बात करना महत्वपूर्ण है।
स्तन कैंसर प्रजनन (fertility) क्षमता को कैसे प्रभावित करता है?
फर्टिलिटी एक्सपर्टस के अनुसार, स्तन कैंसर कभी भी सीधे तौर पर किसी महिला की प्रजनन क्षमता को प्रभावित नहीं करता है। हालांकि, स्तन कैंसर के इलाज में प्रयोग होने वाले उपचार जैसे कीमोथेरेपी, रेडियोथेरेपी, हार्मोनल थेरेपी आदि का महिलाओं की प्रजनन क्षमता पर काफी बुरा प्रभाव पड़ता है। जब एक महिला को पहली बार स्तन कैंसर का ट्रीटमेन्ट दिया जाता है, तो उसे इस बारे में शिक्षित करने की आवश्यकता होती है कि उपचार प्रक्रिया के दौरान उसकी प्रजनन क्षमता कैसे प्रभावित हो सकती है, खासकर यदि वह कम उम्र की युवती है या वह 18 से लगभग 40 साल की उम्र की हैं (प्रसव के वर्ष (reproductive age) मने जाते है।
कैंसर प्रजनन क्षमता संरक्षण (Cancer Fertility Preservation)
प्रजनन संरक्षण वह प्रक्रिया हैं जिसमे अंडे या शुक्राणु को किसी घातक बीमारी से बचाया या संरक्षित किया जाता है ताकि वह व्यक्ति जिसने प्रजनन संरक्षण करवाया हैं वह भविष्य में अपना खुद का बच्चा पैदा करने के लिए उनका उपयोग कर सके।
कीमोथेरेपी, विकिरण चिकित्सा और सर्जिकल हस्तक्षेप सहित कैंसर के कई उपचार, महिला एवं पुरुष के ओवेरियन, टेस्टिकुलर और गर्भाशय को नुकसान पहुंचाकर प्रजनन क्षमता को सीधे प्रभावित करने के लिए जाने जाते हैं। सौभाग्य से, प्रजनन एक्सपर्ट्स और सहायक प्रजनन तकनीक के क्षेत्र में प्रगति के कारण अब महिलाओं में उपचार के माध्यम से प्रजनन क्षमता को प्रभावी ढंग से संरक्षित करने की आसनी हो गई हैं।  
कैंसर प्रजनन संरक्षण प्रक्रिया
कैंसर प्रजनन संरक्षण प्रक्रिया मुख्यतः तीन प्रकार की होती हैं-
एग फ्रीजिंग: 
एग फ्रीजिंग, या ओसाइट क्रायोप्रेज़र्वेशन, एक ऐसी प्रक्रिया है जिसमें एक महिला के गर्भाशय से अंडे (ओसाइट्स) निकाले जाते हैं और प्रयोगशाला में एक तापमान पर इन ओसाइट्स को जमा दिया जाता है और इस प्रकार महिला की प्रजनन क्षमता को संरक्षित करने के लिए एक विधि के रूप में संग्रहीत किया जाता है। यह इसलिए भी जरुरी हैं क्योंकि, कैंसर से पीड़ित महिलाओं को कीमोथेरेपी और/या पैल्विक विकिरण चिकित्सा की आवश्यकता होती है जो प्रजनन क्षमता को प्रभावित कर सकती हैं |
भ्रूण फ्रीजिंग:
इन विट्रो फर्टिलाइजेशन (आईवीएफ) के एक चक्र के बाद भ्रूण बनते हैं और तरल नाइट्रोजन में -190 डिग्री सेल्सियस से नीचे के तापमान पर जमे होते हैं। उन शादी शुदा जोड़ों के लिए इस प्रक्रिया की इस्तेमाल किया जाता है, जहाँ यदि किसी एक पति या पत्नी को कैंसर के उपचार से गुजरना पड़ता हैं ।
ओवेरियन कॉर्टेक्स फ्रीजिंग:
ओवेरियन टिश्यू फ्रीजिंग एक प्रायोगिक तकनीक है जिसमें ओवेरियन कॉर्टेक्स से टिश्यू का फ्रीजिंग और स्टोरेज शामिल हैं। यह उन लड़कियों के लिए अनुशंसित है जिन्होंने अभी तक ओवुलेट करना शुरू नहीं किया है, उन महिलाओं के लिए जो अपने कैंसर के इलाज में देरी नहीं कर सकती हैं और उन महिलाओं के लिए जो हार्मोनल उपचार से नहीं गुजर सकती हैं।   
स्तन कैंसर प्रजनन आयु की महिलाओं में सबसे आम और घातक ट्यूमर है, और बेहतर एंटीनोप्लास्टिक उपचार के कारण जीवन की गुणवत्ता सूचकांक दे पाते हैं । यदि आप भी ब्रैस्ट कैंसर का ट्रीटमेंट प्लान कर रहे हैं और साथ ही अपने परिवार को आगे बढ़ाना चाहते हैं तो आप हमारे फर्टिलिटी एक्सपर्ट्स से अपॉइंटमेंट बुक कर सकते हैं और अपनी सारी समस्याओं का समाधान पा सकते है।  
Written by: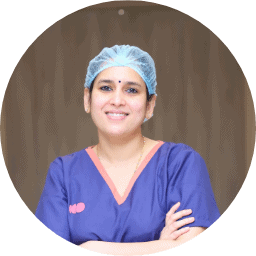 Dr Prachi Benara
Consultant
Dr Prachi Benara is a skilled infertility specialist with more than a decade of experience. Trained from some of the most premier institutes in the field in India which include Maulana Azad Medical College, BJ Medical College (Ahmedabad), PG Diploma in Reproductive and Sexual Health. She further trained in the United Kingdom to pursue her interest in Reproductive medicine and IVF. Her focus areas include advanced laparoscopic and hysteroscopic surgery, IVF, IUI, Frozen embryo transfer and correction of uterine anomalies including uterine septum to improve chances of pregnancy.
Over 11 years of experience
Gurgaon, Haryana
Book an Appointment
View Details