Leading 10 IVF Doctors in India
Published on September 20, 2023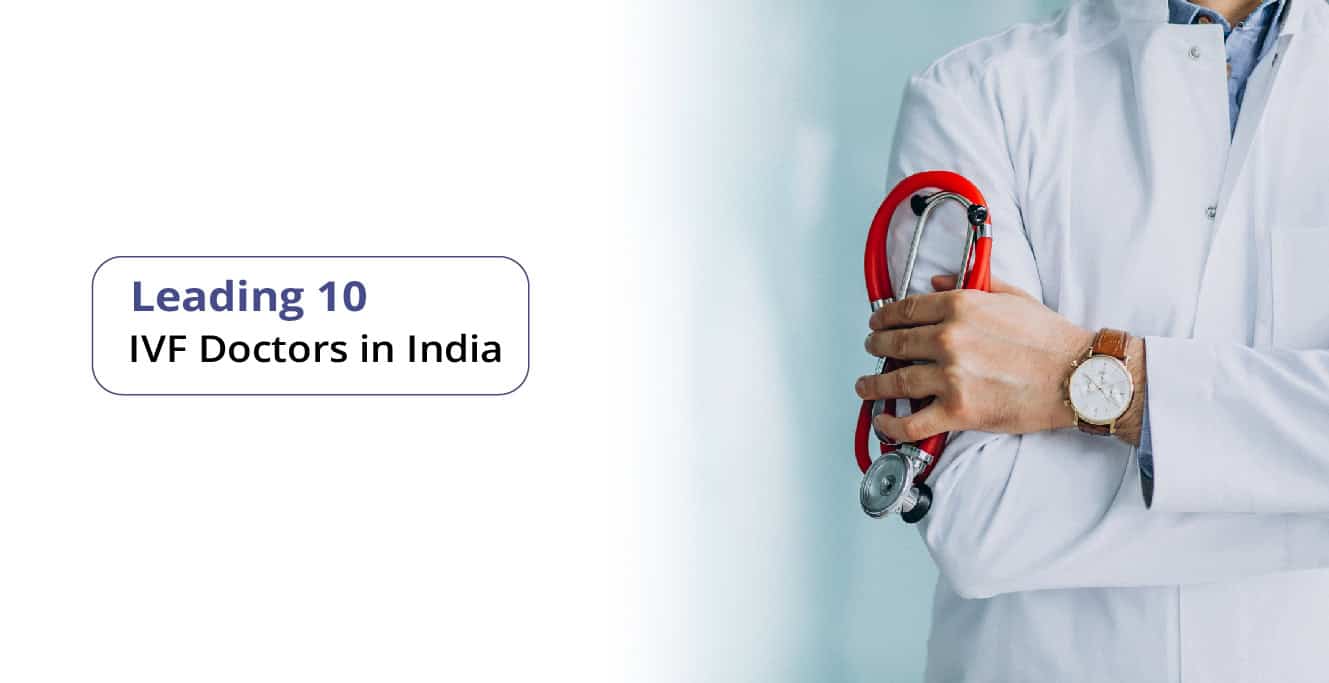 Generally, In vitro fertilisation (IVF) frequently shines as a ray of hope for couples who are struggling to overcome fertility disorders. IVF is one of the most promising fertility treatments and is seen as a way for partners to fulfill their goals of achieving parenthood. Also, for some couples, this fertility journey is not without difficulties, both financial and emotional. Choosing the correct IVF specialist is a crucial decision for your fertility treatments. In this article, we will examine why this decision is so important and what factors need to be considered while making one.
Significance of Choosing IVF Doctors in India
The following are some significant factors that can help you understand why it is crucial to choose the right IVF doctor in India for your fertility treatments.
The Importance of Experience and Expertise
IVF is an intricate and complex treatment. Every stage, from egg retrieval to embryo transfer, calls for a high level of competence. The ideal IVF specialist has years of expertise and a thorough comprehension of the complexities involved in the process. Studies have repeatedly demonstrated that using skilled professionals increases the success rates of IVF procedures. The outcome may significantly differ from one IVF doctor to another based on your selection.
 Customized Treatment Plans
Every couple's experience with infertility is different. What treatment strategy works for one patient may not work for another. The ideal IVF specialist understands this and adjusts treatment regimens accordingly. They carry out thorough examinations to comprehend the unique difficulties a couple experiences and modify the therapy strategy as necessary. The likelihood of success rises with personalised care, which also reduces unneeded stress.
Ethical and Transparent Practices
Trustworthy medical treatment is built on the cornerstones of ethics and transparency. The ideal IVF specialist upholds moral standards and offers open disclosure of fees, processes, and potential hazards. Having this degree of honesty and integrity will be extremely helpful throughout your IVF process since it will provide you with the knowledge you need to make informed decisions.
Compassion and Emotional Support
IVF is a journey through emotions as well as a medical treatment. The ideal IVF doctor is aware of this and provides not only medical know-how but also compassion and emotional support. They are there to support and reassure you throughout the procedure because they are aware of the emotional rollercoaster you can go through during your fertility treatment journey.
10 IVF doctors in India at Birla Fertility & IVF
The following is a list of the highly experienced IVF doctors in India at Birla Fertility & IVF, along with their qualifications and expertise.
Consultant – Birla Fertility & IVF
MBBS (Gold Medalist), MS (OBG), DNB (OBG),
Over 11 years of experience
She has experience detecting and treating gynaecological conditions that affect a couple's ability to conceive as well as concerns with male and female fertility.
For the treatment of problems like fibroids, endometriosis, recurrent miscarriage, PCOS, menstrual disorders, and uterine anomalies, including the uterine septum, she is a specialist in advanced laparoscopic and hysteroscopic surgery.
She has trained and worked at some of the most prestigious institutions in the area of fertility medicine, including the British Fertility Society in the UK, Oxford University's Reproductive and Sexual Health Observor Programme, FOGSI, Maulana Azad Medical College, and BJ Medical College (Ahmedabad).
Max Hospital, Artemis Hospital, and Oxford University Hospital NHS Foundation Trust (UK) are just a few of the healthcare institutions where she has more than 11 years of clinical expertise.
Consultant – Birla Fertility & IVF
MBBS, MS (OBG), Fellowship of National Board,
Member of I.S.A.R and I.F.S
Over 20 years of experience
At the PGIMS in Rohtak, Haryana, Dr. Rakhi Goyal began her career with extensive training in managing more than 250 patients each day. She is a highly sought-after fertility specialist who adheres to a thorough and caring philosophy due to her extensive knowledge of assisted reproduction and fertility therapy. She is a key member of our team of fertility specialists. She retains her knowledge of the subject as she is a life member of both the Indian Society for Assisted Reproduction (ISAR) and the Indian Fertility Society (IFS).
Consultant – Birla Fertility & IVF
MBBS, DGO, DNB (OBs & Gynecology)
Fellowship in Minimal Access Surgery
PG Diploma in ART & Reproductive Medicine (University of Kiel, Germany)
Over 17 years of experience
Dr. Meenu Vashisht Ahuja has done her MBBS from Stanley Medical College in Chennai, as well as a Diploma in Obstetrics and Gynaecology (DGO) and a Diploma in ART and Reproductive Medicine from Kiel University in Germany. She also completed a fellowship in minimally invasive surgery at World Laparoscopy Hospital in Gurugram and is a member of the Indian Society for Assisted Reproduction (ISAR) and the Association of Obstetricians and Gynecologists of Delhi (AOGD, FOGSI)
Consultant – Birla Fertility & IVF
MBBS, MS, Obstetrics & Gynaecology
Over 11 years of experience
Dr. Deepika Mishra has been aiding couples with infertility problems for more than 11 years. She has made significant contributions to the medical community and is a leading authority in treating high-risk pregnancies and infertility in couples. She is also a talented gynaecological oncologist.
Consultant – Birla Fertility & IVF
MBBS, M.S. OB & GYN, IVF Specialist
Over 11 Years of Experience
With more than 11 years of clinical experience, Dr. Muskaan Chhabra is a skilled obstetrician-gynecologist and expert in reproductive medicine. She is a well-known specialist in IVF procedures, including hysteroscopy and laparoscopy for infertility. She has had significant training in intrauterine inseminations, oocyte retrievals, and embryo transfers. Along with working with numerous hospitals and clinics for reproductive medicine across India.
Consultant – Birla Fertility & IVF
MBBS, MS (OBG/GYN)
Over 18 years of experience
She is an internationally trained obstetrician-gynaecologist with a focus on reproductive medicine. She completed her training and employment at some of the most prestigious medical facilities in India and overseas. She has held positions as chief consultant at the ARC Fertility Centre in Kolkata as well as a visiting consultant at a number of reputable reproductive medicine clinics in Kolkata. She is well-known in the IVF industry thanks to her distinctive abilities and broad work experience in India and the USA. Additionally, she has received training in all sorts of laparoscopic, hysteroscopic, and surgical treatments for infertility.
Consultant – Birla Fertility & IVF
MBBS, MS (OBG & GYN), FRM, DAGE (Germany), MRCOG-1(UK)
Over 14 years of experience
Dr. Rachita Munjal is a skilled gynaecologist, obstetrician, and fertility specialist. She focuses on employing ART (Assisted Reproductive Technology) techniques to treat a variety of reproductive issues while also creating customised, patient-focused treatment plans. She is a skilled author, with multiple clinical papers published under her name in prestigious national and international medical journals. She has trained and worked at some of the most reputable medical institutes in the nation. Dr. Rachita Munjal has worked with reputable healthcare organisations for more than 14 years, including the Apollo Cradle, Apollo hospitals in Chennai, and Medicover fertility.
Consultant – Birla Fertility & IVF
MBBS, DGO, FRCOG (London)
Over 32 Years of Experience
IVF expert Dr. Souren Bhattacharjee is well-known both domestically and abroad. He has over 6,000 successful IVF cycles under his belt and more than 32 years of significant experience. He is an authority on treating problems with male and female infertility. He is currently employed by Birla Fertility & IVF in Kolkata as a consultant. His areas of clinical competence include andrology, reproductive ultrasound, clinical embryology, IVF, male infertility, management of failed IVF cycles, and reproductive medicine and surgery.
Consultant – Birla Fertility & IVF
MBBS, DGO, DNB in Obstetrics and Gynaecology, FMAS
Over 13 years of experience
She has just concluded the "Pursuing ART – Basics to ADVANCED Course, 2022" course offered by the Kiel, Germany-based Lilo Mettler School of Reproductive Medicine. Additionally, she previously earned a fellowship in infertility from the Nadkarni Hospital & Test Tube Baby Centre, Vapi, Gujarat. She received training in obstetrics and gynaecology ultrasound at the Sonoscan Ultrasonic Scan Centre in Coimbatore, and she also holds a Fellowship and Diploma in Minimal Access Surgery (FMAS+DMAS) from the World Laparoscopy Hospital in Gurgaon. She has a broad range of expertise that helps her better comprehend her patients, from laparoscopic to ultrasonography, rural to global.
Consultant – Birla Fertility & IVF
MBBS, DNB (Obstetrics & Gynaecology)
ICOG Fellow (Reproductive Medicine)
Over 17 years of experience
Dr. Shikha Tandon is a Gorakhpur-based OB/GYN with a wealth of practical expertise. She is a vital addition to our growing team of fertility experts due to her in-depth knowledge of reproductive medicine and experience with numerous related reasons for infertility.  She graduated with honours from Nepalgunj Medical College of Kathmandu University and then successfully finished her internship. She then pursued a DNB in Obstetrics and Gynaecology at KIMS Trivandrum in Kerala. She pursued the topic with a strong passion and went on to win the coveted ICOG Fellowship while working at Rainbow IVF Hospital in Agra.
Tips to Choose the right IVF doctor in India
Following are a few tips you can keep in mind that may help you find the right IVF doctor in India for effective fertility treatments:
Research: Start by looking at the training and experience of prospective IVF doctors.
Reviews and Referrals: Read reviews left by former patients and their video testimonials, also ask for recommendations from reliable sources.
Consultation: Make an appointment for your initial consultation to learn more about the doctor's perspective on the fertility treatment plan.
Communication: Examine the doctor's attitude of speaking to you and willingness to address your problems.
Qualifications of IVF Doctors in India
The following is a set of specializations and qualifications that are certainly required for IVF doctors in India:
Medical Degree: A fertility expert should hold a medical degree (M.D. or D.O.) from a recognised university.
Residency Training: After graduating from medical school, doctors complete a residency in obstetrics and gynaecology to gain expertise in women's health.
Fellowship Training: After completing their residency, they receive fellowship training in reproductive endocrinology and infertility. This specialised education is geared toward identifying and treating reproductive problems.
Board Certification: Reproductive endocrinology board certification is something that fertility doctors frequently pursue. Organisations like the Indian Society of Assisted Reproduction (ISAR) or the Federation of Obstetrics and Gynaecology grant this accreditation.
Conclusion
The decision to undergo IVF is a significant one, and choosing the right IVF expert is paramount. Remember, before undergoing treatment, patients should always confirm the credentials of a fertility specialist. It is also advised that they meet with a number of specialists to determine which one best suits their needs and objectives. Read the above article to learn about the leading 10 IVF doctors in India at Birla Fertility & IVF. If you are seeking effective fertility treatment, give us a call today for a free consultation with one of the leading IVF doctors in India. Or, you can fill out the given form with the required details, and our medical counsellor will call you shortly.