Planning to start a family, there are several factors the couples look for. The first method to start a family is through the natural process. But if things go south, and the couple is not able to conceive naturally even after trying for more than one year then they start looking at several treatments and methods that can help them conceive.
Dr. Swati Mishra, explains that there are several different types of IVF other than the conventional IVF that can help increase the chances of conceiving.
What are the types of IVF?
There are 3 different types of IVF other than the traditional form of IVF.
1- Natural cycle IVF
2- Mild stimulation IVF
3- In-vitro Maturation (IVM)
Let us start by discussing each of these types.
Natural cycle IVF
The natural cycle IVF is a similar treatment to the traditional or stimulated IVF. The only difference would be that natural cycle IVF does not require drugs to stimulate the ovaries to generate a generous number of eggs. In the natural cycle of IVF, if any drugs are needed only 3-4 days' worth of drugs are enough. The rest of the whole procedure is similar to that of standard IVF like visiting a fertility expert, no to minimal injections to trigger ovulation, surgically retrieving eggs, and then once the embryo is formed outside, it is transferred into the uterus.
Process of natural cycle IVF
The natural cycle IVF involves collecting the egg that has been naturally alighted with the woman's menstrual cycle and there are no to just a few injections/drugs involved during the whole procedure.
In the natural cycle of IVF, the aim is the collect one egg that has been selected and matured naturally by the body during the menstrual cycle, and then the fertilized embryo is taken and placed back in the uterus for conception.
The natural IVF cycle is the best and the closest IVF treatment which can also be called natural fertilization because there were no to just a few injections involved. Natural cycle IVF focuses on the quality of one egg and not the number of eggs produced.
Advantages of natural cycle IVF
Safe & cost-effective treatment

Less risk of multiple pregnancies

Eliminates the risk of OHSS 
Risks of natural cycle IVF
Premature delivery

Low birth weight of the baby

Miscarriage

The egg retrieval procedure can be complicated
Mild Stimulation
Mild Stimulation is similar to natural cycle IVF, but the only difference would be the number of fertility injections/drugs given. In mild stimulation, the fertility drugs are consumed in smaller doses and that too for a shorter period of time to avoid and reduce the risk side effects associated with it. The goal with mild stimulation is to create less than 8-10 good quality eggs that can contribute positively and result in a successful pregnancy.
Process of mild stimulation
After your initial evaluation, which is done during the ovulation period, doctors may recommend some fertility injections in lower doses to help boost the ovulation thereby encouraging your body to produce healthy and more eggs than usual.
Once the follicles are mature, they are retrieved by the experts and combined with the collected healthy and washed sperm.
The sperm and eggs are combined together and incubated to achieve fertilization.
Lastly, the formed embryos are transferred back into the uterus with the hope of conception.
Advantages of mild stimulation
Low doses of medication/injection are given
The risk of OHSS is reduced
The cost per cycle is less
The risk of multiple pregnancies can be reduced
Risks of mild stimulation
Success rates are lower than the standard IVF
Chances of no eggs retrieved are higher
It May require multiple cycles
In vitro maturation (IVM)
In vitro maturation (IVM) is an assisted reproductive technology in which a woman's eggs are retrieved before they are developed. The eggs are then grown in a lab using a medium that contains trace quantities of hormones. Using intracytoplasmic sperm injection (ICSI), the mature eggs are then manually fertilized. The embryos are transplanted to a woman's womb once they have begun to mature.
Process of IVM 
In IVM the eggs are retrieved when they are immature and with this, the woman does not even have to take any fertility drugs/injections.  But this procedure is done only once all blood tests and transvaginal ultrasounds are completed as it helps to determine any issue beforehand.
Once the pre-mature eggs are retrieved, the eggs are placed in cell culture and stimulated with specific hormones until they mature. Once mature, the sperm is inserted in each matured egg under the procedure called ICSI. A total of 1-4 embryos are inserted into the womb with the hopes of conception.
After a wait of 12 -14 days, a pregnancy test can be taken to determine the result.
Advantages of IVM
Reduces the risk of OHSS
The whole process is of a short period
It is a cost-effective IVF
Risks of IVM
Limitations for women with PCOS
The risk of multiple pregnancies is higher
Conclusion
Before deciding which type of IVF is best for you, visit a fertility expert to help understand which IVF is best for your body. It is essential to get all your blood tests and transvaginal ultrasounds done before proceeding with the treatment as it will help your doctor and you as well a better clarity as to what should be the next course of action.
Always be hopeful, because miracles may take time but in the end, everything will work out in your favor or the other way. To know more about the types of IVF. consult Dr. Swati Mishra.
FAQs:
How successful is Natural Cycle IVF?
The success rate of natural cycle IVF has an ongoing pregnancy rate of approximately 7% to approximately 16%.
Is Natural IVF better for low AMH?
If your AMH levels are low there are high chances that you may get pregnant with natural IVF as your AMH levels fluctuate every month. But do not worry, your AMH levels will not decide your pregnancy because there are always different ways that can help improve fertility.
Is IVF better than natural?
Though everybody wants a baby through a natural process. But IVF has a higher chance of conception. Out of every 100 couples who are trying to conceive, approximately 20-30 % actually get pregnant every month.
What AMH is too low for IVF?
If your AMBH level is below 0.4 ng/mL it clearly indicates that it might be difficult to conceive with IVF and therefore doctors suggest several treatment methods and prescribe medication for the same.
Written by: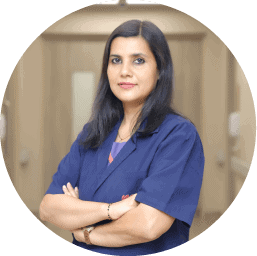 Dr Swati Mishra
Consultant
Dr Swati Mishra is an internationally trained obstetrician-gynecologist and reproductive medicine specialist. She has trained and worked at some of the most reputed medical institutions in India and abroad. She has worked as a visiting consultant at multiple reputed reproductive medicine centers across Kolkata and as a chief consultant in ARC Fertility Center, Kolkata. Her unique skills and diverse work experience in India and the USA have made her a respected name in the field of IVF. She is also a trained specialist in all types of laparoscopic, hysteroscopic and operative procedures related to fertility treatment
Over 18 years of experience
Kolkata, West Bengal
Book an Appointment
View Details