Recurrent Implantation Failure – What to do?
Published on May 25, 2023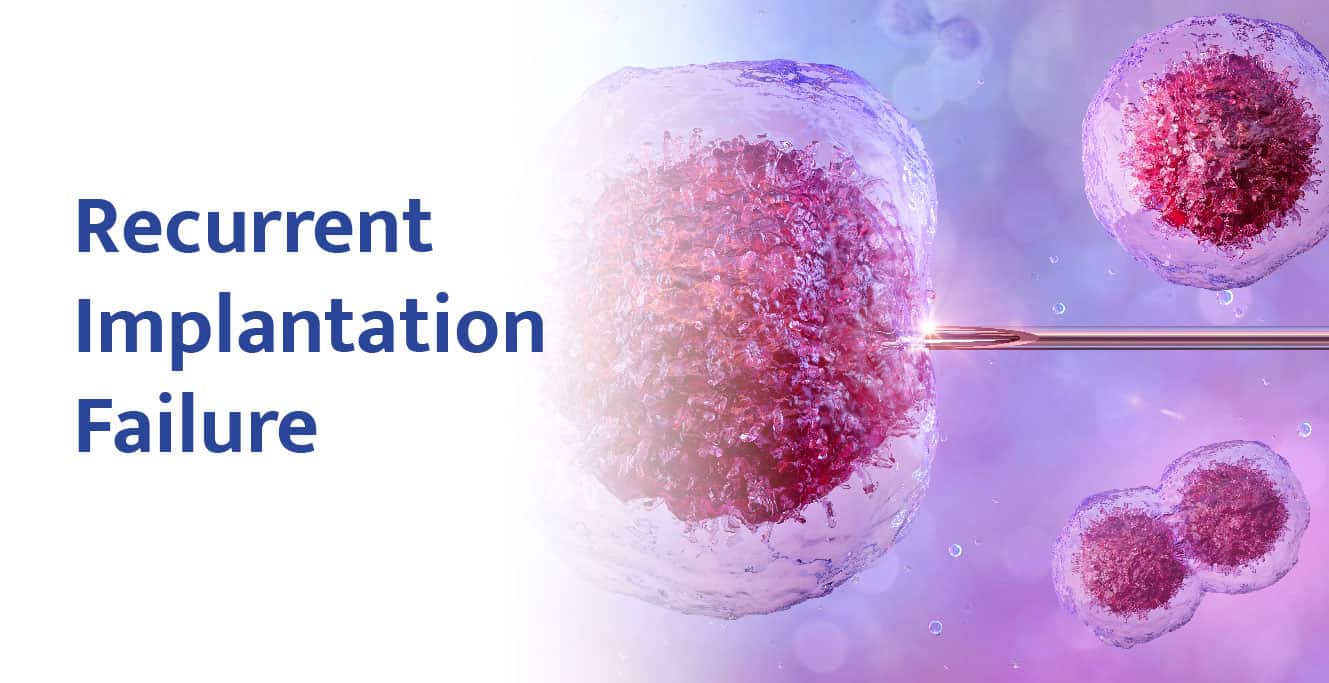 According to the India Society of Assisted Reproduction, there are 27.5 million people in India who are infertile, including both men and women. The cause of infertility may vary from one individual to another. It is reported in studies that 1 out of 15 couples in India are struggling with some or the other fertility condition.
In some cases, the patient may experience recurrent implantation failure. This condition can be difficult and requires expertise for effective treatment. Recurrent implantation failure can be the result of wrong lifestyle, diet, and uterus abnormalities.
Causes of Recurrent Implantation Failure
The reason for recurrent implantation failure may vary from one individual to another. however, the following are a few common factors that can lead to implantation failure:
Low-quality gametes – Gametes is a medical term for the reproductive cell of males and females. If the gamete quality is low that can result in implantation failure and miscarriage. 
Smoking – Tobacco or its compound impacts the uterine line. Smoking passively or actively can reduce the chances of IVF treatment and may also cause implantation failure. 
Obesity – Irregular body weight, typically obesity affects ovulation and menstruation in females. Obesity also impairs the development of endometrium restricting the chances of successful embryo implantation.
Congenital uterine anomalies – The female reproductive organ is complex. Therefore, females with congenital uterine anomalies may experience difficulty conceiving naturally and through assisted reproduction treatment. 
Uterine abnormalities – Some common uterus disorders, such as endometriosis, adenomyosis, uterine fibroids, uterine adhesions, septum uterus, and endometrial polyps, often result in implantation failure.
Diet – A good diet plays a vital role during assisted reproduction treatments like IVF, IUI, ICSI, etc. An unhealthy and unbalanced diet can impact the uterine lining development making the implantation results poor. 
Age – If the patient's age is in the late 40s or more, the uterine lining becomes weak and has no healthy development. Hence, the implantation becomes poor and so is the result of it. 
A fertility expert usually suggests the best sted technique based on the type of the condition and its severity to increase the chances of successful IVF treatments. It is considered that if a woman has had three failed IVF cycles, it is a condition of recurrent implantation failure. Such failed cases of IVF attempts need expertise, appropriate diagnostics to detect the underlying root cause, and assessment to determine the most effective for successful conception. 
Treatments for Recurrent Implantation Failure
As assisted reproduction technologies (ART) have evolved, there are different methods through which recurrent implantation failure can be treated effectively. Some of them are- 
Embryo transfer – Genetic screening, laser-assisted hatching, and time-lapse imaging are performed to select the best and healthy embryos in order to implant them in the uterus lining. The assessed embryos that get transferred to the uterus increase the chances of conception. 
Hysteroscopy – It is one of the most advised surgical interventions to diagnose as well as treat uterus abnormalities effectively. Some common uterine disorders that are treated through hysteroscopy are uterine fibroids, endometrial polyps, uterine adhesions, and many more. 
Clotting blood tests – If there are small clots present in the bloodstream, it may cause difficulty in a successful pregnancy. In such conditions, the doctor may suggest aspirin and other alternative medication maintain regular blood circulation for healthy conception. 
Endometrial Receptivity Array – Endometrial receptivity occurs for a brief period of time during the menstrual cycle after the embryo has arrived in the uterus. This is known as the window of implantation, and it lasts only a short time (WOI). An ERA is a reliable test for determining the time of window of implantation for any female and aids in personalised embryo transfer for RIF patients to increase the implantation success rate.
Conclusion 
As the infertility rate has increased in India, people are opting for assisted reproduction technology. Recurrent implantation failure (RIF) is one of the common complications during IVF treatments. In such cases, patients need a thorough diagnosis along with effective treatments. The above article gives an overview of the various factors that can result in recurrent implantation failure and its treatments. If you are experiencing recurrent implantation failure, give us a call today and consult our IVF specialist for expert advice. You can either contact us by calling on the given number or book an appointment by filling in the form with the required details.