IUI vs IVF: Which one is right for you?
Published on May 25, 2023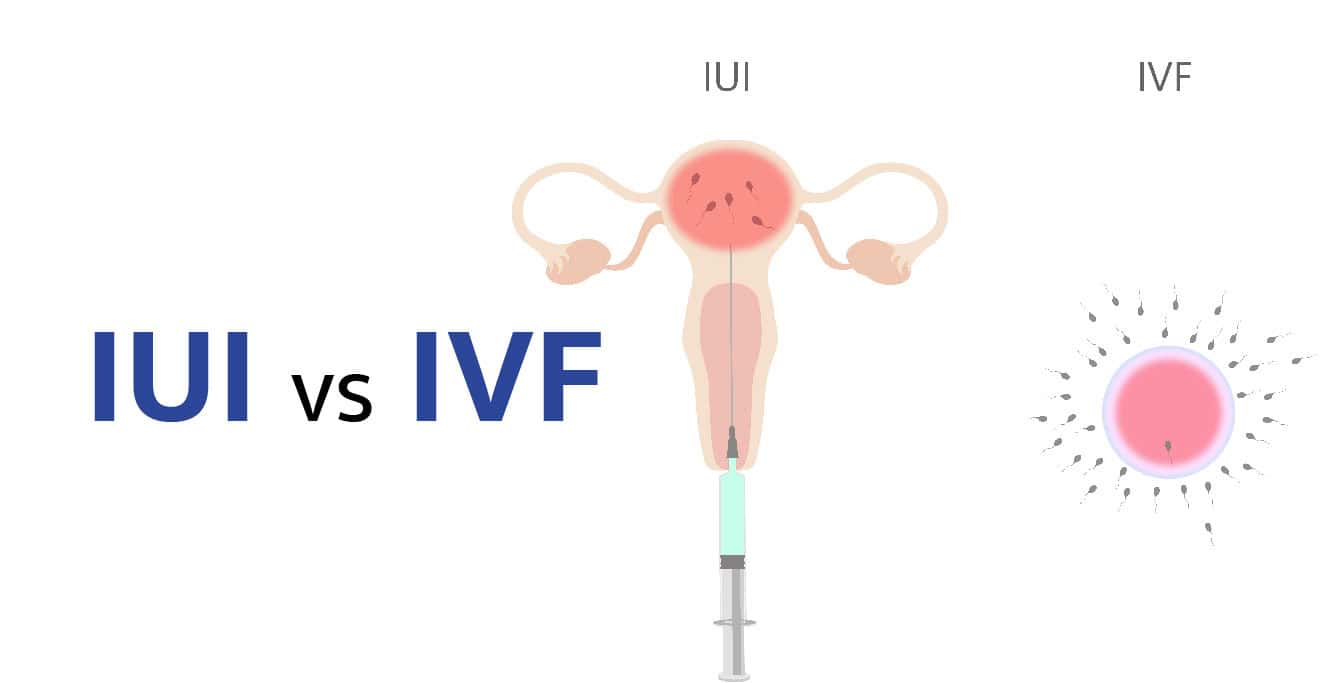 Are you planning a pregnancy through an assisted reproduction method and confused between IUI and IVF? We know it can turn out to be a difficult situation to understand the fertility issue and get the right treatment for it. And yes, there are multiple factors that can result in infertility. In fact, any partner in a couple can be affected by infertility, which may make getting pregnant difficult. IUI and IVF are the two most recommended ART techniques to achieve pregnancy. If you are conceded and want to understand the difference between both techniques, then give the below article a 5-minute read.
Intrauterine insemination (IUI) and In vitro fertilization (IVF) are two effective treatments that even have higher success rates compared to other ART techniques. Let's get some facts clear about both methods one by one and look at their significant differences.
IVF included multiple steps compared to the IUI process.
In the IVF procedure, fertilization of eggs is done in a lab, whereas in IUI, fertilization happens inside the body after injecting the selected sperm into the egg.
IUI has a lower success rate compared to IVF.
At times, IUI works to achieve pregnancy. But when it fails to do so, fertility experts may suggest IVF treatment.
Are IUI and IVF different procedures?
Yes, both procedures include different techniques:
IUI – Intrauterine insemination treatment involves one to two steps, such as medication for ovarian stimulation, in order to increase the production of viable eggs. Later, an expert injects the selected sperm into the uterus to boost fertilization. This dramatically increases the amount of sperm at the uterus-fallopian tube junction, the distance they must swim to meet the egg, and hence elevates the chances of natural conception for many couples.
IVF – It is a complex process that includes multiple steps, i.e., diagnostics, ovarian stimulation, trigger shots, egg retrieval, sperm collection, fertilization, embryo culture, embryo implantation, and the last step, a pregnancy test.
In which conditions are IUI and IVF recommended?
Refer to the below-given table to know the various factors in which IUI and IVF are advised to couples in order to provide effective treatment for assisted conception.
Treatment
Condition
IUI

Ovulating disorder due to irregular periods
Low sperm count
Unexplained infertility
Decreased sperm motility
Ejaculation disorder

IVF

Damaged fallopian tube
Age-related infertility
Endometriosis
Failed IUI cycle
Unexplained infertility
Multiple unsuccessful cycles
Male infertility
Tubal litigation
How do IUI and IVF treat infertility issues?
IUI helps couples achieve pregnancy in two major ways:
Improving the quality of egg production by boosting ovarian stimulation.
Inseminating sperm directly into the uterus increases pregnancy chances.
IVF treats various infertility issues, such as:
Women with damaged fallopian tubes are usually recommended for IVF because eggs are extracted directly from the ovaries and, after fertilization, transferred into the lining of the uterus. This method completely bypasses the damaged fallopian tube, resulting in pregnancy.
Men with infertility issues like low sperm count are advised to undergo ICSI, which involves injecting a selected healthy sperm retrieved from the partner or donor into the egg for fertilization in order to get conception.
For ovulation disorder, medication is provided to produce a large number of eggs, mature eggs, and better quality eggs that improve the chances of pregnancy.
Types of IUI and IVF
If we talk about IUI, there are two types of techniques through which artificial insemination can be done:
IVI – Intravaginal insemination, in this process, women are given shots as close as possible to the cervix to increase the probability of pregnancy
IUI –Intrauterine inseminatrion is either done by an expert or an OBGYN at the fertility clinic. In this process, semen is concentrated, thoroughly washed, and later implanted in the uterine line with the help of a thin tube through the vaginal cavity.
On the other hand, IVF needs thorough monitoring as fertilization is done in the lab by an embryologist. Some of the effective techniques of IVF are:
ICSI – Intracytoplasmic sperm injection, is one of the IVF techniques advised for male infertility. An expert retrieves one healthy sperm and injects it directly into the egg for possible fertilization.
FET – Frozen embryo transfer, as the name itself explains, expert transfers frozen and thawed embryo that has been stored previously from an IVF cycle.
Both IUI and IVF are different procedures, but the end goal is the same, i.e., to achieve pregnancy. However, the right advice is always given by fertility experts after consultation. IUI vs IVF; what is right for you can only be determined by the specialist after running a thorough diagnosis and detecting the root cause of the infertility condition. If you are looking for the expert advice, visit Birla Fertility & IVF clinic near you or call us to book a free appointment with our fertility doctor.