Difference between IVF baby & Normal Baby
Published on September 26, 2022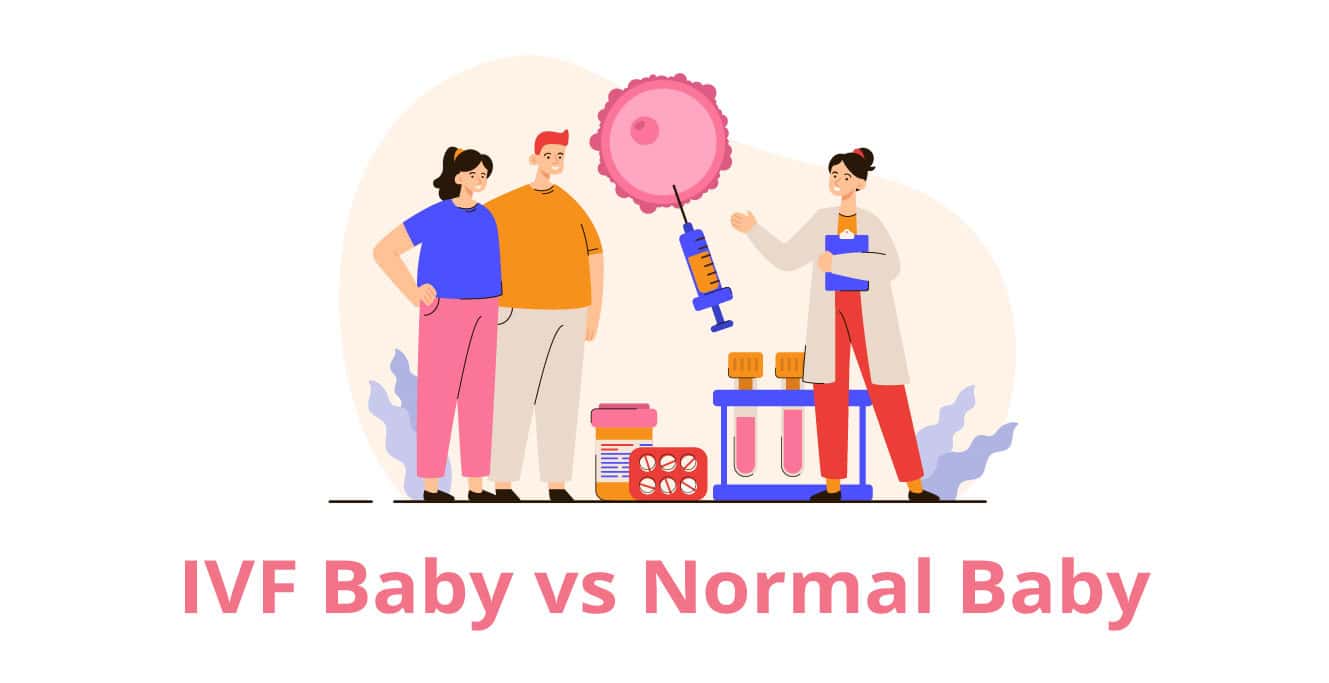 What is the difference between an IVF baby and a normal baby?
A baby is conceived as the result of a female's ovum (egg) being fertilised by male sperm. However, sometimes, things don't work as planned, leading to failure in conception.
Issues with conceiving are common. Fortunately, science and technology have many solutions to this problem.
The conception of a normal baby
The human reproductive system is complicated but effective. Your ovaries produce eggs every month. The fallopian tubes carry your eggs into your fallopian tubes, which connect the ovaries to the uterus.
During sexual intercourse, if an egg gets fertilised by a sperm cell, it moves into the uterus. The fertilised egg attaches itself to the walls of the uterus and grows into an embryo to become a baby. This is how a normal baby is conceived.
The conception of an IVF baby
Most couples conceive naturally. They must typically engage in unprotected sexual intercourse two to three times a week for this to happen.
If you have been trying and have not conceived within three years, your chances of having a baby reduce. In such cases, you might consider assisted reproductive technology, such as in-vitro fertilisation (IVF).
As for differences between an IVF baby and a normal baby, in this procedure, doctors artificially combine an egg and sperm to develop an embryo.
Your eggs are harvested and fertilised in a laboratory with the sperm of your partner.
Once fertilisation is successful, the resultant embryo is surgically implanted in your uterus. If the procedure is successful, you become pregnant.
Difference between a normal baby and an IVF baby
So, is there any difference between an IVF baby and a normal baby? The short answer, technically, should be that there is no difference. Place a normal baby and an IVF baby side by side, and they will look the same. Both normal and IVF babies grow into healthy, normal-functioning adults.
There is a lot of ongoing research on the life expectancy of normal vs IVF babies. However, considering the information we have so far if correct procedures are followed, IVF babies can be as healthy as normal babies. The only difference between a normal and IVF baby is the method of conceiving.
Conclusion
In order to conceive a normal baby, all you and your partner need to do is maintain good health and let nature follow its own course.
With IVF, however, there are many medical procedures to be followed. You will need the intervention of healthcare providers to help you conceive. Birla Fertility & IVF can support you with state-of-the-art facilities and compassionate healthcare.
So, if you are experiencing any fertility issues, visit your nearest Birla Fertility & IVF Centre or book an appointment with Dr Shobhna, who will recommend the best line of treatment to resolve your fertility issue.
FAQs
How many embryos are transferred in IVF?
The number of transferred embryos depends on the number of eggs harvested and your age. There are certain guidelines for the prevention of multiple pregnancies. You also have the right to discuss with your doctor the number of embryos to be transferred.
If unable to conceive, how long should I wait before seeking medical help?
If you have been unable to conceive naturally for one year, you can consider seeking medical help.
Are IVF hormone injections painful?
The type of injections used for IVF has changed from muscular to subcutaneous (under the skin). These injections are almost painless.
How high are the chances of multiple pregnancies with IVF?
Over the last ten years, technology has reduced the chances of multiple pregnancies. There is significant control over the number of embryos transferred, resulting in a sharp decrease in multiple pregnancies due to IVF.