Bilateral Polycystic Ovaries: Symptoms and Treatment
Published on August 25, 2023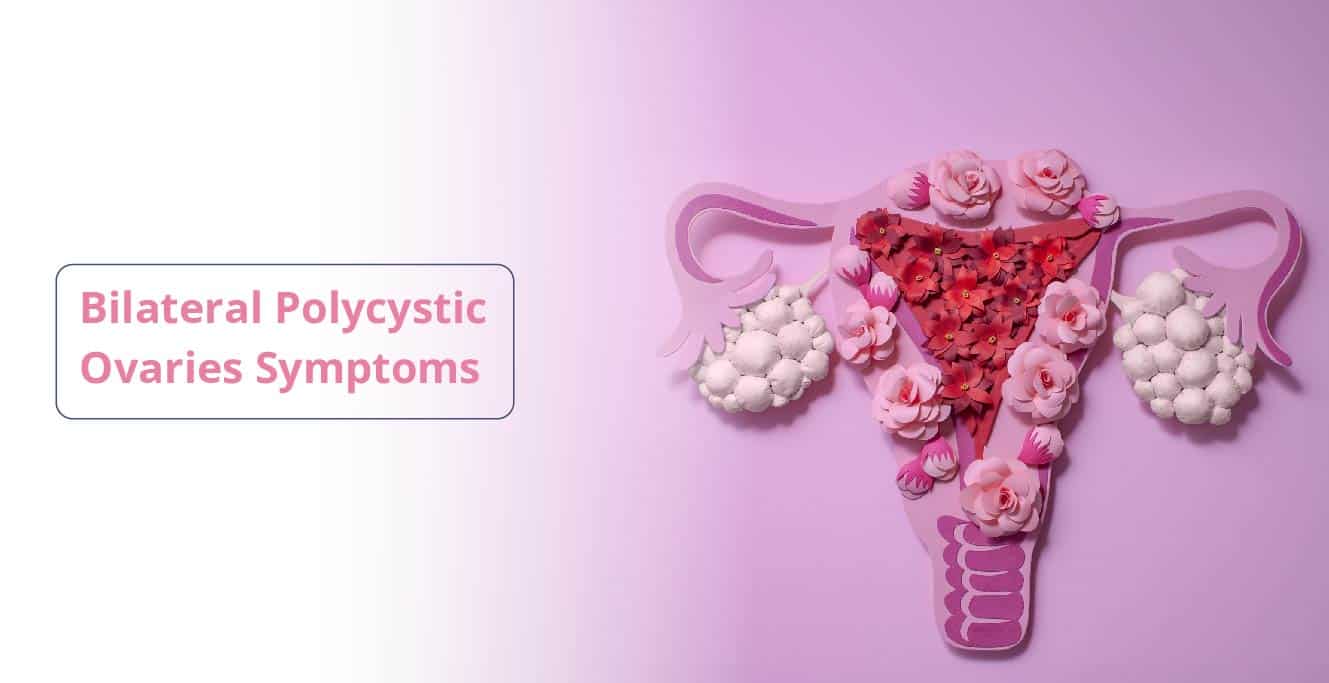 Polycystic ovarian syndrome (PCOS), commonly known as bilateral polycystic ovaries, is a common endocrine condition that affects people with ovaries. According to the NCBI study, India has a PCOS prevalence estimate of 11.34%, calculated using Rotterdam's criteria. Numerous symptoms connected to hormone imbalances and reproductive problems define it. In this thorough article, we will examine the signs, causes, diagnosis, and available therapies for bilateral polycystic ovaries.
Symptoms of Bilateral Polycystic Ovaries
There are a range of bilateral polycystic ovaries symptoms that differ in severity from one woman to another. Here is a list of some common ones:
Menstrual cycles that are irregular, with periods that may be infrequent, heavy, or even nonexistent, are among the most typical symptoms.
Acne and excessive hair growth, often known as hirsutism, are frequent conditions brought on by high androgen (male hormone) levels.
Insulin resistance is frequently present together with weight gain and difficulty decreasing weight, which can result in prediabetes or type 2 diabetes.
Bilateral polycystic ovaries usually co-occur with emotional and psychological symptoms such as depression, anxiety, and mood swings. Given that hormone imbalances can cause complications with ovulation and make it difficult to become pregnant, fertility problems are a serious worry. In addition, tiredness and pelvic pain are potential side effects for some PCOS patients.
Causes of Bilateral Polycystic Ovaries
Although the precise cause of PCOS is not yet entirely understood, there are a number of risk factors that can lead to bilateral polycystic ovaries, such as:
Genetics are important; you are more at risk if a family member has PCOS.
Increased insulin levels are a result of insulin resistance, in which the body's cells do not react to insulin as intended.
High levels of androgens; the ovaries then begin to create more androgens, which furthers the hormonal imbalance.
Low-grade inflammation can also lead to bilateral polycystic ovaries
Diagnosis of Bilateral Polycystic Ovaries
The commonly accepted Rotterdam criteria for diagnosis call for at least two of the following three conditions; irregular periods, excess androgens (found by signs like hirsutism or acne), and ultrasound-detected polycystic ovaries. To determine the treatment method an expert may diagnose the condition thoroughly, and a standard diagnosis of bilateral polycystic ovaries may involve:
Medical history – The doctor will start by going over your menstrual history, including how frequently you get periods, whether you've ever missed one, and whether you've ever experienced any symptoms like hirsutism (excessive hair growth) or acne. Your family's history of PCOD or other hormonal diseases will also be questioned.
Physical examination – A physical examination will be done by the doctor to look for indications of PCOD, such as excessive hair growth, and acne, or indications of insulin resistance, such as weight gain or changes in the skin. In addition, they might take your blood pressure and determine your body mass index (BMI).
Blood tests: A variety of blood tests are performed to assess hormone levels and eliminate any medical issues. These tests could consist of:
Hormone levels: Follicle-stimulating hormone (FSH), luteinizing hormone (LH), testosterone, and dehydroepiandrosterone sulphate (DHEAS) levels can all be determined through blood tests. PCOD frequently exhibits elevated levels of androgens (male hormones).
Blood sugar and insulin levels: To evaluate insulin resistance, which is frequently linked to PCOD, fasting blood sugar and insulin levels may be examined.
Lipid profile: To determine cardiovascular risk factors, blood lipid levels, including cholesterol and triglycerides, may be evaluated.
Thyroid function: To rule out thyroid diseases, which can resemble PCOD symptoms, thyroid-stimulating hormone (TSH) levels may be evaluated.
Treatment for Bilateral Polycystic Ovaries
Bilateral polycystic ovaries treatment is recommended to control symptoms and enhance general health. Although there is no known treatment for Bilateral polycystic ovaries, however, the following are a few methods used for bilateral polycystic ovaries:
Lifestyle Modifications: The first course of treatment is frequently a change in lifestyle. By eating a balanced diet and getting regular exercise, one can manage insulin resistance, control menstrual cycles, and lower testosterone levels.
Medications: A few medications or drugs are advised to manage the symptoms of bilateral polycystic ovaries such as:
Birth Control Pills – Hormonal contraceptives work to control periods and lower testosterone levels, which helps with acne and hirsutism.
Anti-Androgens – By counteracting the effects of androgens, medications like spironolactone help treat acne and excessive hair growth.
Metformin – Medication frequently prescribed for diabetes, controls insulin resistance and may help get ovulation back on track.
Fertility Treatment: Drugs like Clomiphene can trigger ovulation in those who are attempting to get pregnant. IVF or other assisted reproductive techniques may be suggested in more complicated situations.
Support for mental health: It's critical to address PCOS's emotional and psychological effects. Depression, anxiety, and mood swings can all be managed through counselling and support groups.
Surgery: Ovarian drilling, a surgical technique, may be an option if all other therapies have failed. This entails piercing the ovaries with heat or a laser, which can lower testosterone production and increase ovulation.
Alternative Therapies: Acupuncture, yoga, and herbal supplements are a few complementary therapies that some people find helpful. These ought to be used in addition to standard therapies, not as substitutes for them.
How can I control bilateral polycystic ovaries?
You can manage the bilateral polycystic ovaries symptoms with the help of a few measures. Some of these involve modifying one's way of life, like:
Healthy Eating: It can be advantageous to adopt a balanced diet that has an emphasis on whole grains, lean meats, fruits, vegetables, and healthy fats. It's crucial to limit processed foods, sweet snacks, and refined carbohydrates.
Regular Physical Activity: Physical activity on a regular basis can help manage weight, increase insulin sensitivity, and maintain hormone balance. The benefits of 150 minutes per week of moderate-intensity exercise have been well established.
Weight loss: If you are overweight, even a small weight loss can help with bilateral polycystic ovaries symptoms. Consult a registered dietician or a healthcare provider for advice on individualised weight loss plans.
Conclusion
In conclusion, bilateral polycystic ovaries is a complicated disorder with a wide range of symptoms brought on by hormonal abnormalities. Beyond reproductive health, its effects also have an impact on psychological health and general quality of life. While there is no one-size-fits-all method of treatment, a mix of medicines, supportive treatments, and lifestyle changes can help control symptoms, increase fertility, and improve mental well-being. Working together with specialists to create a specialised treatment plan that takes into account each patient's particular requirements and concerns is essential for those with bilateral polycystic ovaries. Many patients with bilateral polycystic ovaries can successfully regulate their symptoms and lead healthy, fulfilling lives with the proper management and support. Call us to schedule a free appointment with our specialist if you have been diagnosed with bilateral polycystic ovaries and need expert guidance.
Frequently Asked Questions (FAQs)
1: Can bilateral polycystic ovaries damage my ability to conceive?
Yes. Your fertility may be impacted by bilateral polycystic ovaries due to hormonal abnormalities. Additionally, it may make it more difficult for you to conceive naturally.
2: Can bilateral polycystic ovaries only be treated with medication?
Actually, there aren't any drugs that can treat bilateral polycystic ovaries. However, several lifestyle changes, like consistent exercise, a nutritious diet, and stress management, might help manage bilateral polycystic ovaries symptoms.
3: How can I stop the signs of bilateral polycystic ovaries?
Bilateral polycystic ovaries symptoms cannot be prevented from appearing. The best course of action, however, is to consult a specialist and look for suitable instructions to manage them effectively.
4: Does the fact that I have irregular periods suggest I have bilateral polycystic ovaries?
No, a bad diet, a change in lifestyle, or other reasons may be to blame for irregular periods. However, bilateral polycystic ovaries might occasionally be one of the causes of irregular periods. Therefore, it is best to consult with your gynaecologist to identify the precise underlying cause and receive the appropriate care.