Success Rate with ICSI by Age
Published on September 25, 2023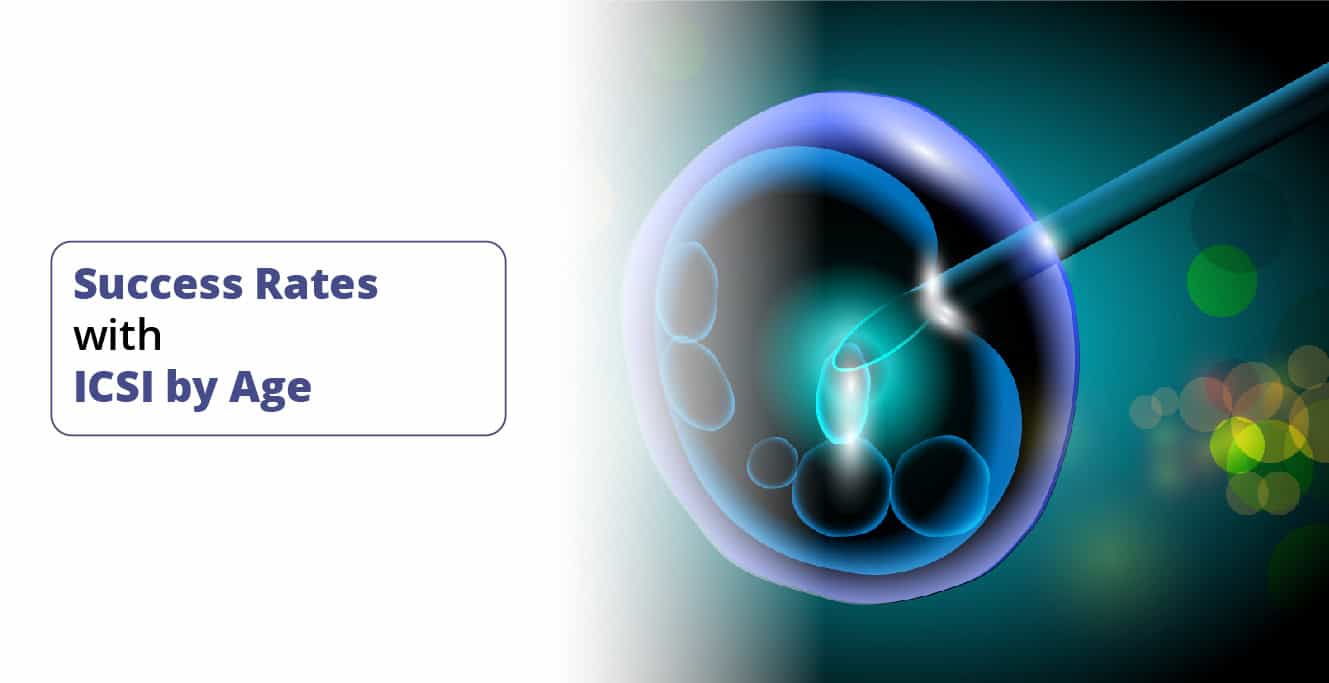 Intracytoplasmic Sperm Injection (ICSI) has become a game-changing treatment option in the field of assisted reproductive technology for couples struggling with male infertility, unexplained infertility, or recurrent IVF failures. The steps of ICSI will be covered in detail in this blog post, along with the reasons it is suggested, how it varies from other reproductive procedures, and success rates by age.
What is ICSI?
A single sperm cell is directly injected into an egg during the advanced fertility procedure known as intracytoplasmic sperm injection, or ICSI. Various male infertility problems, such as low sperm count, slow sperm motility, or irregular sperm shape, which may obstruct natural fertilisation during conventional IVF, are overcome using this same procedure.
ICSI Step-by-Step Procedure
ICSI begins with ovarian stimulation to encourage the creation of multiple eggs, just like conventional IVF.
Retrieval of Mature Eggs:
A minimally invasive process is used to retrieve mature eggs.
A sample of sperm is taken, and the healthiest and most mobile sperm are chosen for ICSI.
Using a microneedle, a single sperm is gently inserted into the centre of each extracted egg.
Fertilised eggs (embryos) are monitored during incubation as they grow in a regulated environment.
The transfer of healthy embryos to the uterus, where they may implant and progress to pregnancy, is known as an embryo transfer.
ICSI Success Rates by Age
The age of the female partner can affect the ICSI success rate:
Below 30: Women under the age of 35 often have a greater ICSI success rate, with pregnancy rates frequently topping 40% every cycle.
35–37: Women in their late 30s still have good ICSI success rates, which typically range from 35% to 40%.
38–40: Pregnancy rates average approximately 30% per cycle for women in the 38–40 age group as ICSI success rates begin to modestly fall.
Over 40: Due to age-related issues affecting egg quality, women over 40 may experience noticeably decreased ICSI success rates, frequently below 20% per cycle.
Why ICSI is Recommended for Patients
In cases of male infertility, where traditional IVF may fail to achieve fertilisation due to sperm-related difficulties, ICSI is advised. When there are unexplained fertility issues or prior IVF failures, it may also be advised. By directly injecting a sperm into an egg, ICSI increases the likelihood of successful fertilisation.
ICSI's Differences from Other Fertility Procedures
IVF vs. ICSI: In traditional IVF, sperm and eggs are combined in a dish to promote natural fertilisation. ICSI, on the other hand, bypasses the hurdles to natural fertilisation by injecting a single sperm directly into an egg.
IUI vs. ICSI: Intrauterine Insemination (IUI) uses cleaned sperm that relies on natural fertilisation and is less intrusive than ICSI. The manual injection of sperm into eggs used in ICSI results in fertilisation and is more intrusive.
PGT vs. ICSI: Preimplantation genetic screening (PGT), in contrast to intracytoplasmic sperm injection (ICSI), does not address problems with fertilisation. ICSI focuses on achieving fertilisation in situations of male infertility, despite not being a genetic screening method.
Conclusion
ICSI, also known as intracytoplasmic sperm injection, is a wonderful development in fertility treatment that gives hope to families struggling with male infertility and other issues. On their path to parenthood, individuals and couples can be empowered by knowing the step-by-step technique, justifications for its prescription, how it varies from other treatments, and ICSI success rates by age. For those contemplating ICSI as a reproductive treatment, speak to our fertility specialist today to get personalised insights and advice. You can either call us on the mentioned number or book an appointment with us for free by filling in the required details in the given form, and our coordinator will call you shortly with details.
Frequently Asked Questions (FAQs)
Does age affect the ICSI success rate?
Yes. Age is a significant factor in the ICSI rate, the higher the age is the lower the ICSI success rate will be. For expert advice, it is always advisable to meet a fertility expert for a diagnosis and the right treatment plan.
What age is best for the highest ICSI success rate?
It is said that couples between the ages of 35 and below have the highest ICSI success rate compared to patients in other age brackets. Therefore, it is better to consult an expert timely for a better result than to delay the treatment and worsen the symptoms.
Is ICSI effective for fertility disorders?
Yes, the ICSI success rate is better and can turn out to be an effective fertility treatment for men with fertility issues like low sperm count, sperm structure abnormalities, and low sperm quality.
What is the duration of ICSI treatment?
The average duration of ICSI treatment may range between 10 to 12 days. This is the approximate duration of the course which may differ from one patient to another based on a variety of factors, including the type of fertility disorder, and age of the patient.