Laparoscopy: All You Need To Know
Published on August 13, 2022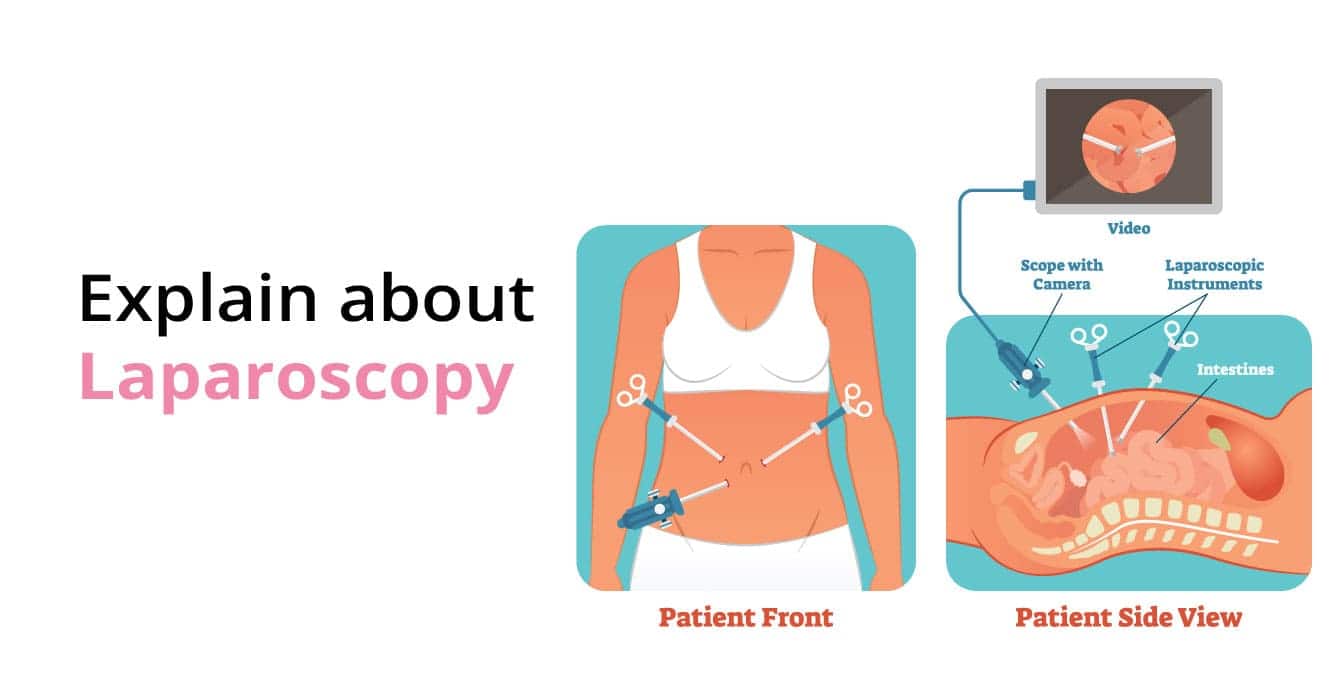 What is laparoscopy?
A laparoscopy is a surgical procedure in which a surgeon accesses the inside of your abdomen. It is also known as keyhole surgery.
Laparoscopy is usually performed using an instrument called a laparoscope. A laparoscope is a small tube with a light source and a camera. It enables your doctor in obtaining biopsy samples and carrying out treatment of abdomen-related problems without having to make large incisions. That's why laparoscopy is also referred to as minimally invasive surgery.
Indications of laparoscopy
When imaging tests like an MRI scan, CT scan, ultrasound, etc., fail to detect the cause of a problem – laparoscopy is conducted to diagnose and identify the cause of an issue related to the abdomen.
Your healthcare practitioner may suggest a laparoscopy to look for a problem in the organs, like:
Appendix
Liver
Gallbladder
Pancreas
The small and large intestine
Stomach
Pelvis
The uterus or reproductive organs
Spleen
Your doctor may find the following issues by using a laparoscope while examining the above areas:
An abdominal bulge or tumour fluid in your abdominal cavity
Liver illness
Blockages and bleeding in your stomach
Pelvic inflammatory disease or endometriosis
Uterine conditions such as the unicornuate uterus, fibroids, etc.
Obstruction of the fallopian tube or other infertility-related issues
Progress of a specific malignancy
Benefits of laparoscopy
A laparoscopy has numerous benefits. It not only helps your doctor diagnose but also assists your doctor carry out the necessary treatments.
It will enable your surgeon to treat incontinence and remove an ectopic pregnancy (a pregnancy which grows on the wall outside of your uterus and can be life-threatening for you).
Moreover, it will allow your surgeon to perform a hysterectomy, i.e., removal of the uterus, to treat uterine cancer and stop abdominal bleeding.
Procedure for laparoscopy operation:
Before the surgery
You will need to provide details of your medical history to your doctor. Also, you will be asked to undergo blood tests and a physical evaluation to ensure that you are fit to go for laparoscopy and do not suffer from any condition that can make it complicated.
Your doctor will explain the laparoscopy procedure to you in detail. You can put up your queries during this time. You will need to sign a consent form to be able to proceed with the surgery.
Besides this, you should avoid drinking, eating, and smoking around 12 hours before the operation. Also, since you will probably feel drowsy after the operation and won't be allowed to drive, it is best to ensure that someone is present to pick you up once you are dismissed from the hospital.
During the surgery
Once the procedure is initiated, you will be asked to remove all the jewellery and wear a gown. Forthwith, you will need to lie back on the operation bed, and an IV (intravenous) line will be implanted in your arm.
General anaesthesia will be transferred through the IV line to ensure you don't feel discomfort during the operation and sleep through it. Your anesthesiologist can also administer specific drugs, hydrate you with fluids via the IV and check your heart rate and oxygen levels.
Once the prerequisites for laparoscopy are done, an incision is made to insert a cannula in your abdomen. Then, with the help of the cannula, your abdomen is inflated with carbon dioxide gas. With this gas, your doctor can examine your abdominal organs more clearly.
Your surgeon, through this incision, inserts the laparoscope. Your organs can now be seen on the monitor screen. This is because the camera attached to the laparoscope projects the images onto the screen.
At this stage, if laparoscopy is used to diagnose – your surgeon will carry out the diagnosis. On the other hand, if the procedure is used to treat any kind of condition, your surgeon may make more incisions (around 1-4 between 2-4 cm). This will enable the surgeon to insert more tools to carry out the treatment procedure.
Once the operation is complete, the tools inserted will be taken out, and your incisions will be stitched up and bandaged.
After the surgery
You will be kept under close observation after laparoscopy for a few hours. In the meantime, your oxygen levels, blood pressure, and pulse rate will be checked, and tests will be taken. Once you are awake and there is no complication present, you will be discharged from the hospital.
At home, you will need to keep the incisions clean and dry. For this, you need to follow all the instructions about bathing received from your doctor properly.
The carbon dioxide gas that is still inside you could hurt. Your shoulders may feel sore for few days. Also, you can experience slight pain and discomfort around the areas where the incisions have taken place.
To combat this pain – you should take the medication prescribed on time. You will progressively get better, provided you refrain from exercising for a few days.
Complications
Although laparoscopy is a safe and effective surgical procedure, still, like any other surgery, the following complications can arise:
Damage to your blood vessels and abdominal organs
Internal bleeding
Anaesthesia-related issues
Infections
Abdomen wall inflammation
A blood clot in your lungs, pelvis, or legs
Damage to a major organ like bladder, bowel, etc.
Laparoscopic surgery cost
Laparoscopy cost of surgery in India lies between Rs. 33,000 and Rs. 65,000.
Conclusion
Laparoscopy is an effective procedure for the diagnosis and treatment of abdomen-related diseases. So, if you suffer from any abdomen disease and wish to undergo laparoscopy, you can reach out to the skilled doctors at Birla Fertility and IVF. They have a team of leading fertility specialists, other doctors, and support staff.
The clinic aims to provide excellent healthcare services. Moreover, the clinic maintains advanced tools for testing and treatment. They have nine centers across northern India sharing an outstanding success rate.
So, if your doctor has recommended you to get the laparoscopy procedure done or you intend for a second opinion, you can visit Birla Fertility & IVF anytime or book an appointment with Dr. Muskaan Chhabra.
FAQs :
1. What does laparoscopic surgery do?
Laparoscopic surgery helps a surgeon visualise and examine your abdomen's interior without having to make large incisions. With the aid of a device known as a laparoscope, it helps in the diagnosis of abdomen-related issues like uterine fibroids, infertility, blocked fallopian tubes, etc. The surgery assists in the treatment of the above conditions.
2. Is laparoscopy a major surgery?
Yes, laparoscopy is a major surgery. It is used to diagnose and treat problems associated with the abdomen and pregnancy. For instance, laparoscopy for infertility is used to confirm the diagnosis of infertility and discern the causal factor behind it. Forthwith, it helps in the treatment of that causal factor.
Besides this, similar to other surgeries, the complications associated with laparoscopy grant it the status of major surgery. Some of them include damage to an organ or blood vessels, inflammation, infection or bleeding in the abdomen wall, etc.
3. Is laparoscopic surgery painful?
You won't experience much pain during laparoscopy because of general anaesthesia. Although after the surgery, you can experience mild pain in the areas around the incision and can also experience shoulder soreness for a few days.
Written by: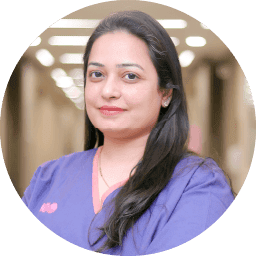 Dr Muskaan Chhabra
Dr Muskaan Chhabra is a trained obstetrician-gynaecologist and reproductive medicine specialist with clinical experience of more than 11 years. She is a renowned expert and fellowship- trained IVF specialist of infertility related hysteroscopy and laparoscopy procedures. She is extensively trained in oocyte retrievals, embryo transfers and intrauterine inseminations. Dr Muskaan has also worked with several hospitals and reproductive medicine centres across India. Over 11 years of experience including Hinduja Hospital & Medical Research Centre, Mumbai; Virk Fertility Services, Jalandhar; and SPS Apollo Hospitals, Ludhiana.
Book an Appointment
View Details