What is the success rate of IVF?
Published on December 28, 2021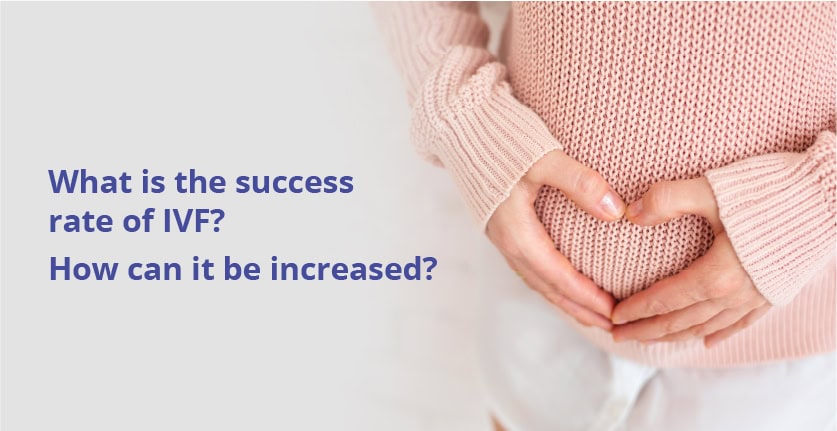 What is IVF?
In vitro fertilization or IVF as it is called, is one of the types of Assisted Reproductive Techniques, which uses a combination of medicines and surgical procedures that help sperm fertilize an egg and implant the fertilized egg in the uterus.
What are the factors that affect the IVF success rate? How can it be increased?
If you go by the numbers, the success rate for an IVF pregnancy is about 30% with live birth rates being a little lower than 30%.  There are multiple factors that could affect the success rates of IVF and there are multiple ways to improve the chances of you conceiving using simple lifestyle changes. As you are someone who is looking forward to an IVF cycle, you should be aware of the same.  There are also ways to mitigate the risks that are associated with the mentioned factors and we shall also increase our awareness of the same.
1. Age
Your age is one of the most important IVF success factors to consider. While younger women have higher chances of IVF success, the reduction in the number of eggs and the reduction in the quality of the eggs as you age tend to be the reasons behind the reduction in the success chances of IVF treatment in older women. In fact, the live birth IVF success rate for women who are under 35 and who start an IVF cycle is 40 per cent. However, the success rate for women over age 42 is 4 per cent.
2. Previous pregnancy and partner:
One more important factor to consider during IVF is whether or not you were pregnant previously and if it was with the same partner. The probability of success is much higher if you were previously pregnant with the same partner that is undergoing the IVF treatment. Factors such as having a history of recurrent miscarriages or previous pregnancy with a different partner may reduce the chances of IVF success.
3. Type of fertility problems:
While some male infertility problems do impact IVF success, factors like uterine abnormalities, exposure to DES, or fibroid tumours that you might be facing, also decrease the likelihood of your success with IVF. Very important to know: IVF success factors are dependent on ovulation. Ovarian dysfunction, like high FSH levels which indicate a low ovarian reserve, may also reduce the chances of your IVF success.  There could be a need for you to take large amounts of ovulation stimulation drugs. When both partners are infertile with lower chances for IVF success, factors such as the length of time you have been infertile are important to consider. The chances of IVF success decrease with the amount of time a couple has been infertile.
4. Use of donor eggs:
Donor eggs are a significant consideration, especially if you are over 35-40, as there may be a higher rate of IVF success. Factors such as egg quality and age of the donor are important. Using donor eggs from younger women may increase the chances of pregnancy for women over 40. 2011 findings show a 55 per cent live birth success rate with a fresh donor egg/embryo transfer.
5. Lifestyle habits:
Stop smoking if you want to improve your chance of having a baby. In fact, many times the woman is required to stop smoking at least 3 months before starting IVF treatment.
Smokers require higher dosages of fertility drugs to stimulate their ovaries

Smokers have lower implantation rates than nonsmokers

Women who smoke require almost twice as many IVF attempts

Women who smoke experience more failed fertilization cycles

More IVF success factors to mull over include losing weight if you are overweight or obese. 

Women who are overweight have an increased risk of infertility as well as miscarriage. Overweight women also have less IVF success with fertility treatments than women of normal weight. Underweight women are also at greater risk of having success with IVF. 
Bottom line: aim to stay within a healthy weight range.
6. Fertility clinic:
The centre you choose to perform the IVF treatment can greatly affect your IVF success. Factors to think about when reviewing the success rate of fertility centres include:
The training and experience of the IVF clinic and staff

The live birth rate per IVF cycle started

The rate of patients pregnant with multiples (twins, triplets or more)

The laboratory used by the clinic and the qualifications of their staff

The types of patients accepted at the clinic, more specifically their age and fertility problem

Keep in mind that some clinics are more willing to accept patients with a lower chance of IVF success or they may specialize in particular treatments.
Also, read ivf process in hindi
Summary:
Hence, if you suspect you might have issues with fertility it is always advisable to not delay making a visit to a trusted doctor and address the same. The sooner you try and address the issue, the less severe the problem could be. You're just a doctor visit away from creating a happy family that you have always dreamt of.
Written by: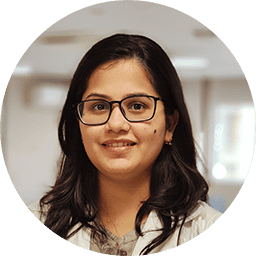 Dr Shreya Gupta
Dr Shreya Gupta is an experienced OBGYN in Lucknow with close to 10 years of clinical experience. Her friendly patient oriented approach and thorough knowledge in reproductive medicine makes her a stellar addition in our growing fertility team.
She completed her MBBS from GSVM Medical College, Kanpur and her MD (Obstetrics &
Gynaecology) from KGMC Lucknow. Thereafter she completed her DNB (Obstetrics &
Gynaecology) and FNB (Reproductive Medicine) from Ruby Hall Clinic, Pune. 
Book an Appointment
View Details
To Know More
Speak to our experts and take your first steps towards parenthood. To book an appointment or to make an enquiry, please leave your details and we will get back to you.