Birla Fertility & IVF – Offering Holistic Fertility Care & Treatment
Published on August 13, 2022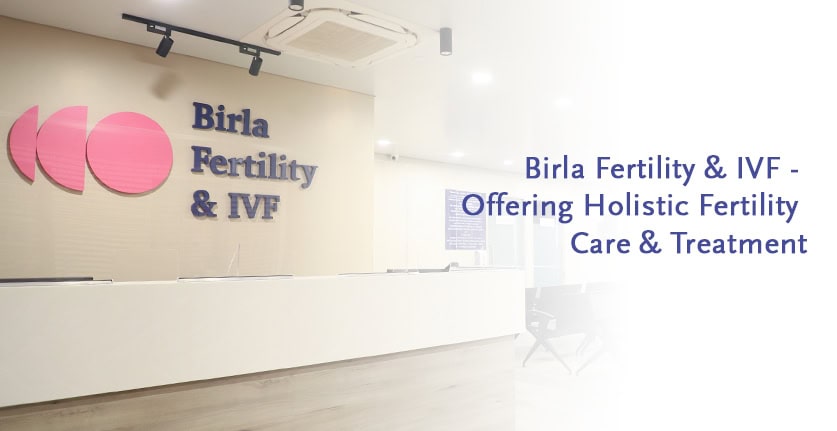 Fertility is the natural capacity to conceive a child. It does not come easily to everyone. Research shows that about 11% of couples will face fertility issues – the inability to conceive naturally after one year of unprotected sexual intercourse.
Fertility is not just a female health issue, it can affect all genders. Fertility is impacted not just by the reproductive organs but by what is taking place in the entire body and mind.
However, everyone can take steps to improve their fertility. There are five key aspects of life which need to be in balance for optimal fertility health:
Medical

Nutrition

Mental

Relationship

Spiritual. 
Close to 28 million couples in India today struggle with fertility-related issues caused by a combination of these different factors.
PCOS, endometriosis, male infertility, obesity, a family history of genetic disorders, and endocrine problems like diabetes or a malfunctioning thyroid are just some of the aspects that contribute to poor fertility health.
Stress, relationship troubles, psychological conditions like anxiety or depression, weight management, an unhealthy lifestyle or a diet deficient in essential nutrients also impact fertility.
Added to this is the stress of trying to conceive, which paradoxically becomes yet another barrier to successful conception.
Being at your best fertility health becomes critical when you are thinking of starting a family, whether you're trying to conceive naturally or with the help of science. 
Research shows that taking a holistic and integrative approach helps to improve natural fertility as well as the success rate of medications or IVF treatments.
Holistic medical treatments address core medical conditions before a couple attempts to conceive or begins IVF treatment, for better outcomes. Integrative treatments incorporate alternative healing methods to improve fertility, including:
Meditation

Ayurveda

Yoga

Supplements

Nutrition

Psychological counselling
At Birla Fertility & IVF, we believe that fertility treatment is not just about IVF, it's about a more holistic approach to promote good reproductive health. Our unique clinical approach focuses on Holistic Fertility Care.
We bring together multiple disciplines and therapies under one roof – our Nutritionists, Counsellors, Endocrinologists, and Andrologists work seamlessly alongside our Fertility experts to improve the overall fertility health of couples.
In addition, we also offer state-of-the-art fertility preservation treatment for patients diagnosed with cancer.
As part of Holistic Fertility Care, we offer:
Urology-andrology services to treat men with subfertility – abnormal semen parameters, male sexual health, reproductive and anatomical disorders

Endocrinology services to treat patients with diabetes, insulin resistance, obesity, PCOS or hypothyroidism

Medical genetics support for couples with a family history of genetic abnormalities or recurrent miscarriages

Nutritional advice for patients who struggle with weight management, insulin resistance, PCOS, hypothyroidism or diabetes

Psychological counselling to help address the social and psychological mental conditions resulting from infertility, and for patients with anxiety or depression

Ayurveda consult to help couples with failed IVF cycles, or conditions like a thin endometrium or low sperm count

Oncology services to enable fertility preservation for those who need to undergo chemotherapy or radiation
At Birla Fertility & IVF, our endeavour is to build awareness and access to reliable fertility treatment.
We believe that world-class fertility and IVF treatment should be within the reach of every Indian couple. In this endeavour, Birla Fertility & IVF brings to you "top-of-the-line" treatments at transparent and attractive prices.
Our team of doctors, counsellors and support staff is extremely approachable. They will guide you patiently through your treatment journey with sensitivity and compassion while keeping your safety, confidentiality and interest as their topmost priority.
Our team of fertility specialists with an unmatched experience of more than 21,000 IVF cycles is known for delivering exceptionally high success rates. Our labs offer you the latest technology and operate in accordance with international protocols.
We want to ensure that your fertility problems are treated comprehensively and with thoroughness. Ensuring that you get the best of fertility care and fertility health, delivered with All Heart. All Science.
Get in touch with us to know further.
To Know More
Speak to our experts and take your first steps towards parenthood. To book an appointment or to make an enquiry, please leave your details and we will get back to you.