Common Side Effects of Fertility Treatments and How to Manage Them
Published on May 26, 2023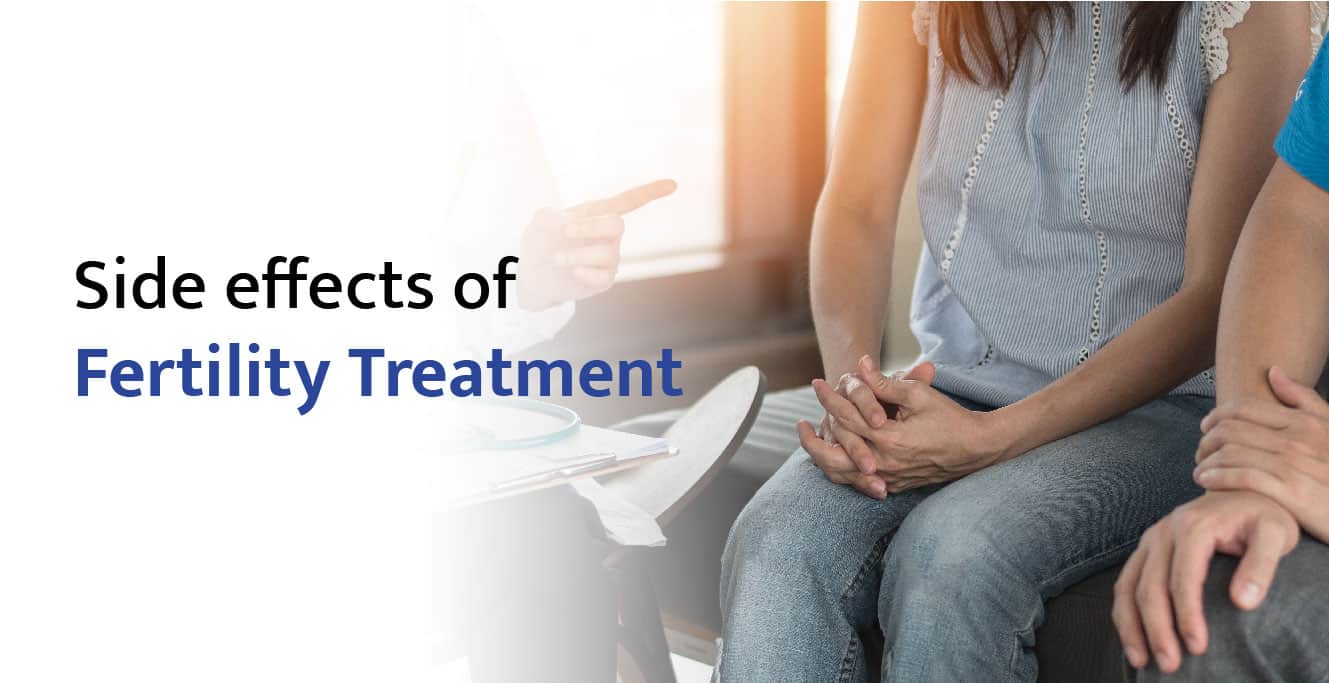 Embarking on a fertility journey can be an emotionally charged experience. While fertility treatments offer hope to couples and individuals trying to conceive, it's important to acknowledge that they may come with certain side effects. Understanding these potential complications and side effects and knowing how to manage them can help you navigate your fertility treatment with confidence and resilience. In this blog, we'll cover some of the common side effects of fertility treatments and provide preventative and manageable tips on how to cope with them effectively.
Fertility Drugs Side Effects
Fertility treatments often involve hormonal medications, which can cause hormonal imbalances and fluctuations. These hormonal fluctuations during fertility treatment may result in side effects such as mood swings, irritability, and anger. The following are a few tips that can help you manage the mentioned side effects:
Share how you are feeling with your partner or a close friend.

Join in stress-relieving activities such as yoga, meditation, or deep breathing exercises to reduce the feeling of restlessness.

When in need, always seek support from a therapist or counselor who has specialization in fertility issues.

Follow a healthy lifestyle that involves regular exercise, a good 8 hours sleep pattern, and a well-balanced diet.
Physical Discomfort
Some fertility treatments, such as ovarian stimulation and egg retrieval, can cause physical discomfort for women. Typically, women undergoing fertility treatment may experience side effects including bloating, abdominal tenderness, breast tenderness, and constant fatigue. You can follow the below-mentioned measures to relieve physical discomfort:
Apply a heating pad or take warm baths to soothe discomfort in your body or body parts.

Wear loose garments or comfortable clothing to avoid putting pressure on sore areas.

Get plenty of rest and prioritize self-care to eliminate fatigue.

Drink plenty of fluids and stay hydrated. 

Eat a nutrient-enriched diet to support your overall well-being.

Consult your doctor for appropriate painkillers options if needed.
Post Injection Inflammation
At times, fertility drugs or medication given through injection may cause reactions on or around the injection site, such as redness, swelling, and bruising. To decrease the effects of such inflammation:
Practice proper injection techniques as advised by your specialist.

Injecting medication at different sites gives your skin time to heal.

Icing or putting a cool pad on the injection site before and after administering the medication will reduce discomfort, bruising, and swelling.

Also, you can use over-the-counter pain relievers, as prescribed by your expert, in order to manage any pain or inflammation around the injection site.
Emotional Stress
Undergoing fertility treatments can take an emotional toll on individuals and couples. As a result, dealing with uncertainties, disappointments, and the pressure to conceive can lead to increased stress levels. Here are some tips you can use as  coping mechanisms to manage the side effects of fertility treatments:
Communicate openly with your partner, friends, or support groups who understand your journey and make you feel comfortable about it.

You can always engage in stress-reducing activities such as exercise, hobbies, or creative outlets.

Also, practicing mindfulness and relaxation techniques can help you alleviate anxiety.

If you are feeling distressed, consider joining fertility support groups or seeking professional help for counselling in order to address emotional concerns and stress.
Relationship Challenges:
In some cases, couples undergoing fertility treatments may experience strain in their relationship due to the emotional and physical demands of the procedure. To combat that tension and nurture your relationship, read and imply the below tips:
It is always a better idea to maintain open and honest communication with your partner about your fears, hopes, and expectations.

Try and set aside quality time for activities that bring you joy and strengthen your bond with each other.

Schedule and attend counselling sessions together to improve communication and support each other through fertility treatment.

Explore alternative methods of intimacy to deepen the emotional connection.
Conclusion
While fertility treatments offer hope and promise, it's essential to acknowledge and address the potential side effects they may bring. By understanding and managing these side effects effectively, you can steer your fertility journey with strength and may feel a sense of confidence during it. Remember, seeking support from your partner, friends, counselor, loved ones, and mental health professionals can provide invaluable guidance and comfort along the way. Stay calm and positive, be patient with yourself, and remember that you are not alone on this path to parenthood. If you are planning to undergo any fertility treatment and seeking expert advice, call us to book a free consultation with our specialist today. Or you can fill in the appointment form with the required details, and we will give you a callback in order to provide detailed information about the needed fertility treatment.