Birla Fertility & IVF- One of India's leading chains of fertility centres comes to Odisha
Birla Fertility & IVF- One of India's leading chains of fertility centres comes to Odisha
Published on January 19, 2023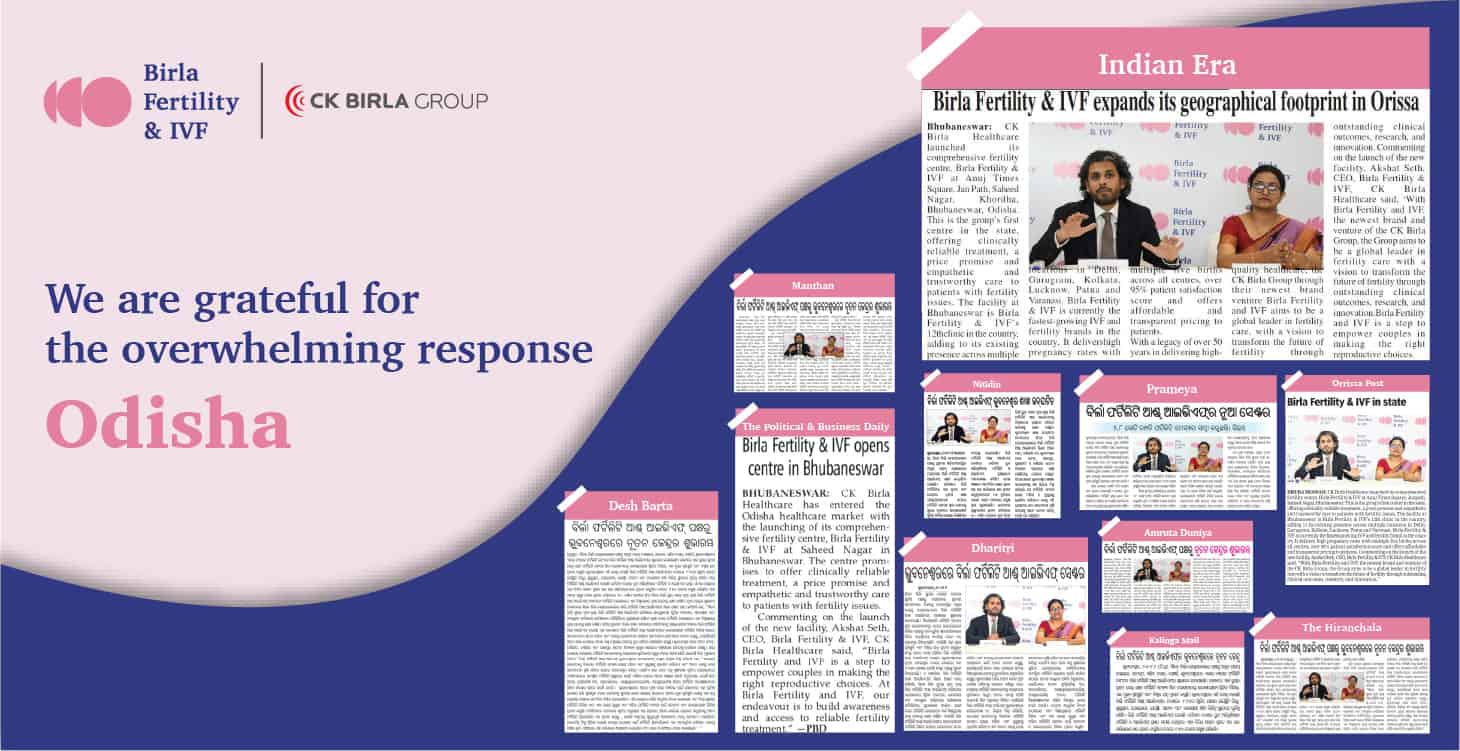 Birla Fertility & IVF, is now all set to provide comprehensive fertility care of global standards in Bhubaneswar, Odisha. This is the 12th centre of Birla Fertility & IVF across the country. It is a part of the fastest-growing fertility centres in India. Birla Fertility & IVF provides world-class fertility treatment to couples facing difficulty in conceiving naturally. 
Birla Fertility & IVF is a part of the well-known C K Birla Group which has a legacy of over 150 years and delivers high-quality healthcare facilities in India. The aim of Birla Fertility & IVF is to transform the future of fertility by providing a holistic approach along with comprehensive fertility care to all couples in need. 
During the Bhubaneswar press conference, Mr Akshat Seth, CEO of Birla Fertility & IVF and CK Birla Healthcare said, 'the newest brand of the CK Birla Group, Birla Fertility & IVF, aims to be a global leader in fertility care. It has the vision to transform the future of fertility through outstanding clinical outcomes, innovation, and research. This new venture, Birla Fertility & IVF is a step to empower couples to make the right decision about their fertility health. At Birla Fertility & IVF, our goal is to build awareness along with accessibility to reliable fertility treatment in Bhubaneswar. We are expanding our world-class fertility facilities across the country by launching our centres in various cities including Bhubaneswar. We have successfully set up centres in different cities of the country such as Delhi, Kolkata, Patna, Lucknow, Varanasi, and many more.'
In addition, Dr Lipsa Mishra, Consultant at Birla Fertility & IVF in Bhubaneswar said, 'Contrary to popular belief, fertility is an issue which can affect both men and women, and we strive to focus on creating awareness about the same. Our unique clinical approach emphasises on improving the overall health of fertility and not just one issue related to it. Our team of Counsellors, Endocrinologists, Embryologists, Andrologists, and Nutritionists work collaboratively under one roof along with our fertility experts. The launch of this new centre of Birla Fertility & IVF opens an array of possibilities for couples by making quality and world-class fertility care accessible locally. This new centre not only caters to patients from Bhubaneswar but also from nearby areas including Khorda, Sambalpur, Baleshwar, and Berhampur. Our price promise of affordability and transparency also ensures access to high-quality fertility services for society at large.'
You can now visit our new fertility centre in Bhubaneswar for comprehensive fertility care. Birla Fertility & IVF comprises an experienced team of fertility experts with an unmatched experience of 21,000 and above IVF cycles. Also, we have a high pregnancy rate which is over 75% along with a patient satisfaction score of over 95%. You can now book a free consultation with our fertility expert in Bhubaneswar to seek advice for making the right assisted reproductive choice to make your family complete. 
To Know More
Speak to our experts and take your first steps towards parenthood. To book an appointment or to make an enquiry, please leave your details and we will get back to you.